New Isuzu NQR Crew Cab Dump Truck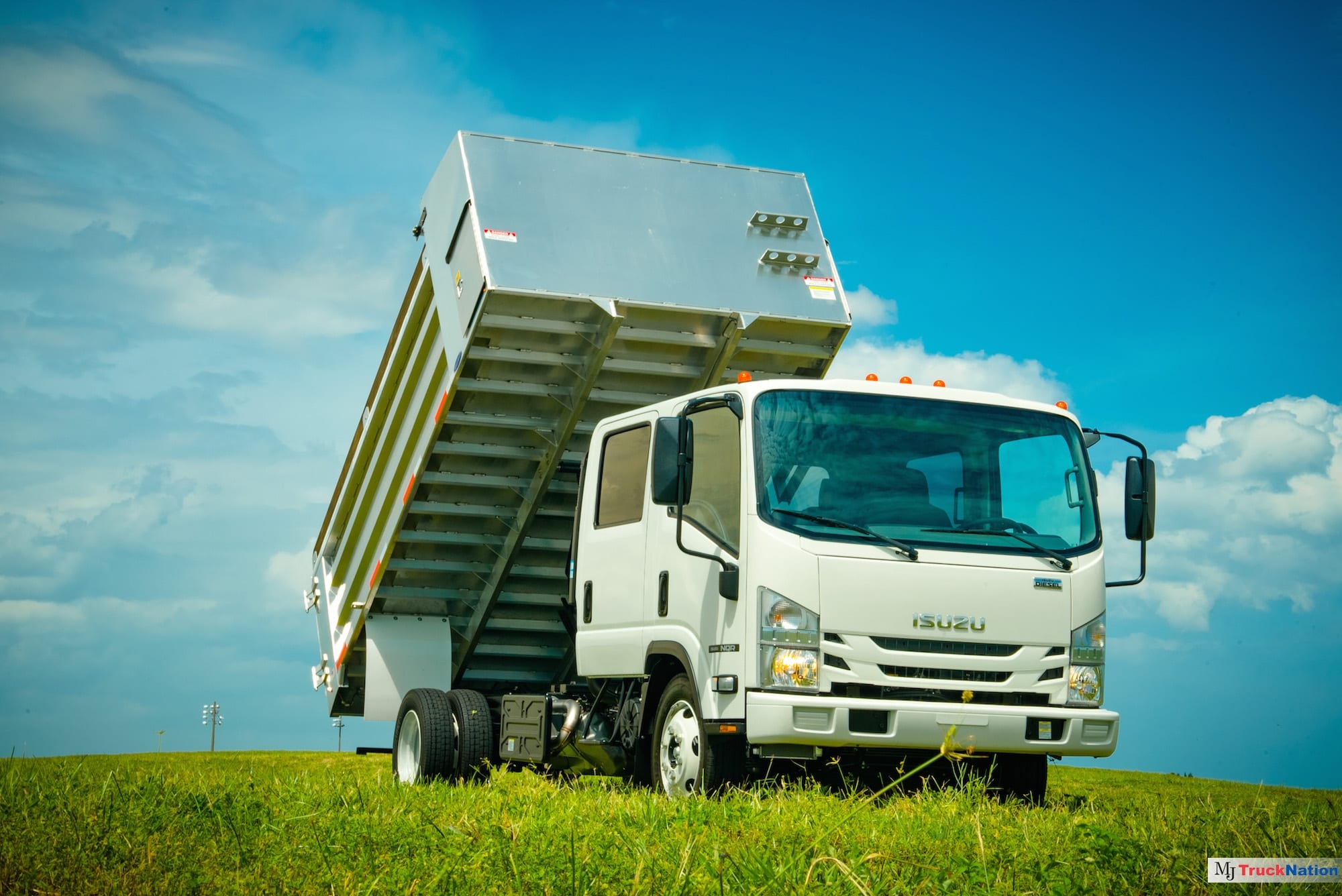 When you've got a job to do, the last thing you need is an old, worn-out truck slowing you down. This New Isuzu N-Series Crew Cab Dump Truck is a powerful ally that will help you in your business, not hold you back.
Check Out What This Tipster is Loaded With
This new Isuzu NQR Dump Truck has a power-packed 5.2-liter turbocharged diesel engine that is capable of any job you can throw its way. Roaring with peak performance, this truck is economical too. Along with an affordable price tag, the NQR gets excellent fuel mileage because it is diesel-fueled.
The Isuzu NQR sports a 17,950-lb GVW, the ideal weight – not too heavy and certainly not too light. This truck is the ultimate for practically any load with wheelbases ranging from 109 to 212 inches to easily accommodate any box from 10 to 24 ft. in length.
You'll be able to easily fit your team members in too. This Crew Cab comfortably seats up to seven people. The NQR never compromises on comfort. Isuzu believes that just because you are working doesn't mean you shouldn't ride in style too.
This truck boasts an automatic transmission so you won't have to be messing with shifting gears all day. You'll be amazed at what a difference it makes to let your new Dump Truck take that off your shoulders!
With regulations becoming more stringent across the nation, you'll be pleased to know that this Dump Truck meets all EPA emissions standards. You'll never be side-lined or run into sinking big bucks into this work truck while trying to get legal.
Maintenance is never an issue either. This NQR can go up to 10,000 miles between oil changes, saving you both time and money. It also comes with an unbeatable Isuzu warranty, known for being one of the best in the entire industry. Total satisfaction on all levels is always guaranteed when you purchase an Isuzu N-Series truck.
This truck is flexible too, delivering load after load of whatever you want to fill it up with – from dirt or construction site material to gravel and stones.
You can't go wrong with Isuzu, a trusted name in Commercial Work Trucks.
MJ TruckNation
At MJ TruckNation, we are dedicated to serving you. With a wide selection of Commercial Trucks on our lot, like this Isuzu NRQ Dump Truck, we make it our business to help you get in the truck of your choice at a price that fits your budget.
We have on-site financing so we can work miracles when it comes to working within your reach. With just $1000 down and approved credit, this new NRQ Diesel Dump Truck can be yours for payments of just $857. If you find it odd that we advertise our prices, it's time that you are introduced to the MJ TruckNation difference. We take great pride in putting you first…and it shows.
If you don't live in the South Florida area, no problem. We deliver nationwide!
Come on in and check out our great deals or give us a call today at (561) 220-9992.