Isuzu 2015 NPR-HD Gas Landscape Dump Truck
Get Your Business Off the Ground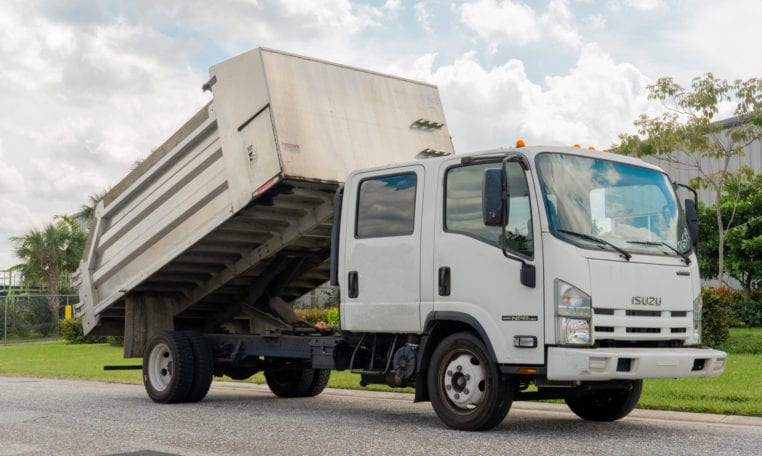 This 2015 Isuzu NPR-HD Gas Landscape Dump Truck is an earthmoving beast.  You can be sure this truck will get your landscaping and dumping jobs done.  And, you can comfortably take a team of six along with you.
Do you have a landscape or dump service?  If you do (or want to start one), you need a great Landscape Gas Landscape Dump Truck.  If your current truck is breaking down or just isn't sending the right message to your customers, do we have the truck for you!
Isuzu is well-known for providing power and dependability to the Commercial Truck Driving industry.  This 6.0 liter V8 gas engine packs the punch you need and does so in a fuel-efficient manner. You'll never have to worry if the station has the fuel you need.  All stations carry gas.
This tapered aluminum Landscape Dump Truck is 14 feet long, the ideal length to carry your load and accommodate your needs but not so big you can't get to where you need to be.  Weighing in at 14,500 pounds of Gross Vehicle Weight, you won't need an additional license to operate it.
The automatic transmission in the jewel assures you won't be messing around with shifting gears all day.  The cab seats 7 and is ultra-comfortable, just the way Isuzu always serves them up. 
This 2015 Isuzu NPR-HD Gas Landscape Dump Truck only has 41,430 miles on it.  With a super-saving price tag of just $39,980, imagine how much money you can make with this 2015 Isuzu NPR-HD Gas Landscape Dump Truck.  While others are working just to make their Commercial Truck payments, you'll have money left over to sink into your landscaping or dumping business or whatever else you'd like to do with it.
Our Landscape Dump Trucks are selling fast.  Get this workhorse before someone else does!
MJ TruckNation
MJ TruckNation has been in business for over 15 years.  We are dedicating to serving you.  We operate with the utmost integrity and put our customers over sales, every time.  If we can't find the truck you are looking for, we will find one for you or make one. We can deliver to any place in the entire country. That's our guarantee.
Our company is run by professionals that are knowledgeable and courteous.  We work hard to ensure your Commercial Work Truck is everything you need and want it to be.  We have genuine parts and authorized service at our dealership for your convenience. We understand that time is money so we do all we can to get you in and out as quickly and officially as possible.
With on-site financing, we are pros at getting our customers in a truck that rocks.  We'll do it for you too.  Stop by and see the tons of Commercial Trucks on our lot or give us a call today at (561) 220-9992.