5 Hot Tips to Prepare your Truck for Winter Weather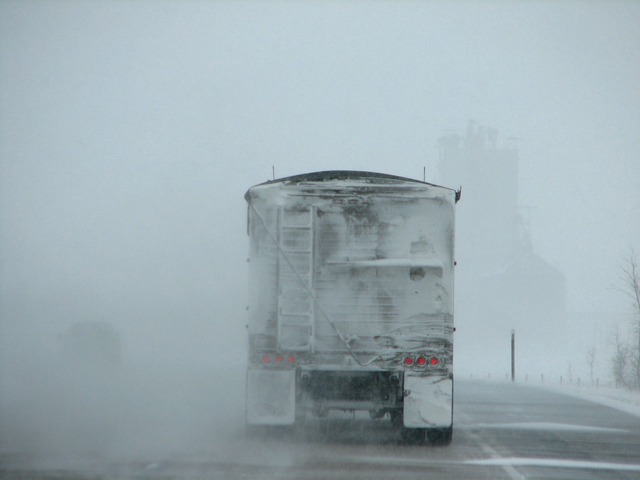 According to the CDC, snow, ice and extreme cold conditions account for 24% of all vehicle accidents. Seventy-four percent of fatal accidents involve a large truck. The statistics are staggering and it's true – winter driving can be treacherous and even deadly if you're not ready for it.
Regardless of it you're driving a Box Truck, Flatbed, Cargo Van, Big Rid, or any other type of commercial vehicle, freezing conditions combined with slick icy and snowy roads can be a disaster waiting to happen.
Here are five winter weatherizing tips to help keep you safe:
Be Fluid with Your Fluid Checking
Cold weather wreaks havoc on vehicle fluids so it's imperative to thoroughly check them. Engine oil, transmission fluid, radiator fluid, brake fluid, power steering fluid, and even windshield wiper fluids can freeze up. Above all, your antifreeze should be monitored.
Fuel Line Freeze Prevention
Condensation can take place in the warm fuel tank which may freeze in the fuel line. Keeping a minimum of half a tank of fuel in your truck at all times can help prevent the dangerous scenario. Ensuring your fuel filter is in optimal condition and draining the water separator daily in freezing weather are other precautions you can employ.
Fuel Gelling Defense
Fuel can easily gel up when the temperatures are frigid. Gelled fuel can lead to engine failure and other issues. Using a fuel with high octane helps prevent gelling as can adding anti-gelling solutions after each fill-up.
Keep Fuel Injectors Clean
Fuel injectors help maintain engine power, to eliminate hard starts during cold weather, and to idling flow smoothly so when they aren't functioning properly, problems are looming. In addition, some fuel injectors are responsible for also preventing fuel line freezing by distributing antifreeze. Be sure your fuel injectors are working properly and are kept clean at all times.
Battery Check-Up
Cold temperatures can place a huge strain on your battery. In an instant, one can go from working to not. It's imperative to check it on a regular basis. In addition to doing so, also take a look at the date it was purchased and if it's been awhile, save yourself some trouble and replace it before you are stranded.
MJ TruckNation
At MJ TruckNation, we are all about safety. From offering you the best of the best in safe trucks like Box Trucks, Flatbed, Day Cabs, Cab and Chassis, and more to making our service and parts department easily accessible to you, we take your safety to heart.
You'll find our team members are helpful and friendly. We also have on site financing so we are able to work wonders where others can't…or won't. At MJ TruckNation, you are our number one concern. Check us out and find our for yourself.
Give us a call and see what we can do for you – (561) 840-9800.