Box Trucks Liftgates: Which is the Right Fit for You?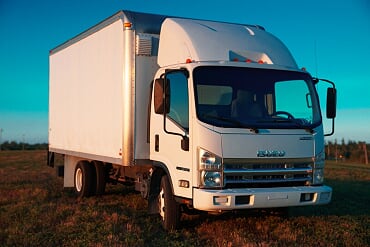 Many Box Truck owners don't think much about what type of liftgate is on their truck. That is until they go to use it and it's not the best kind for the job they're doing. If you are in the market for a Box Truck, it's good to know the main types of liftgates to make sure you get the one that will serve your needs. If you already have a truck but want a more optimal liftgate, you can have one put on for a lot less than you may think.
What is a Box Truck Liftgate?
A liftgate is located in the back of a Box Truck. It is a platform that's used for raising and lowering various items. A liftgate is controlled by a hydraulic system. Liftgates provide a safe and effective method for getting heavy cargo on and off the bed of the truck.
Importance of a Box Truck Liftgate
A Box Truck liftgate is designed to make your truck more functional. In order for that to happen, you'll need to have in mind what you are going to be loading and unloading and where. A great liftgate will be dependable and safe with anti-slip features. It will also be time-efficient.
Finding the Right Liftgate
Match the configuration of your liftgate with your needs in whatever line of work you do. The top four types and their functions are:
Conventional
The most common type of liftgate is one that stays at an upright position when it is not engaged in lifting. It sometimes serves as the door to the truck body. This type is designed to load and unload average weight freight and is able to lift high. They typically do not have some of the frills and features of other liftgates, however.
Tuck-Away/Tuck-Under
Although tuck-away/tuck-under liftgates require being pulled out, unfolded, or lowered, they have their benefits. They are able to be tucked out of the way from the entrance of cargo which is a huge plus in some instances. If you need the extra space, this one is the way to go. Do keep in mind though that tuck-away/tuck-under liftgates aren't level during the initial approach to the raised position which can be inconvenient. And, if you have a back condition, the untucking may be a problem for you.
Cantilever
The cantilever liftgate can be adjusted most any way you need it to be in order to keep it ground level. It is ideal for irregular loads, especially those that are delivered in rough or uneven terrain. A remote-control device comes along with cantilever liftgates. Another huge perk is they are pallet-friendly and cart compatible. The only true downside is the liftgate can cause clearance difficulties, especially when the fuel tank is in the rear.
Rail Gate
If you work with a lot of bulky and unusually heavy materials, the rail liftgate may be an excellent choice for you. It loads and unloads irregular and heavy items with ease. When it is engaged, it gate travels straight up and down and rests in a folded down position. The rail gate liftgate has a definite disadvantage in that it lays flat close to the rear doorway which can pose a problem.
MJ TruckNation
Not sure what type of liftgate you need for your Box Truck? Or, maybe you need a box Truck and liftgate. At MJ TruckNation, we are here to serve you. We'll help you figure out your best fit. Come on in or give us a call at (561) 220-9992.