The Brand New ISUZU NPR-HD Spray Truck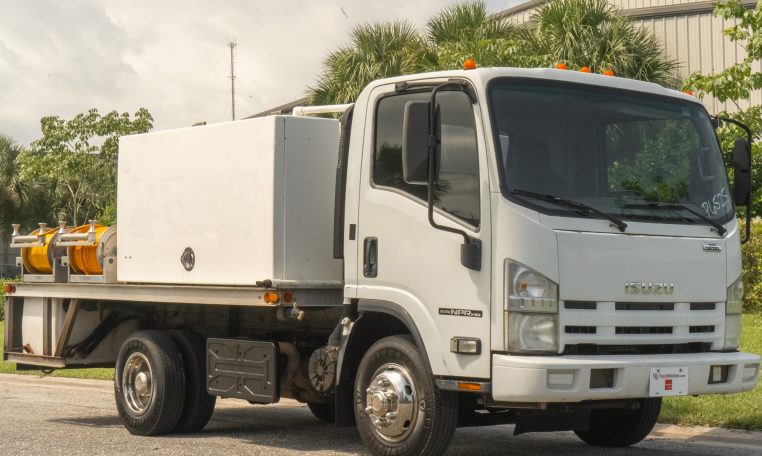 Check out this brand new Isuzu NPR-HD Spray Truck. Imagine the possibilities! Whether you have a pest-control, landscaping, or agricultural business, this fine Spray Truck could set you on the road to success.
About the Work Beast
First and foremost, this truck is an Isuzu. Isuzu has been around for decades, giving drivers what they need and want in a Commercial Work Truck. Economy, comfort, and dependability are always in the mix when you buy an Isuzu.
This Spray Truck has 42"-tall boxes and an equal-sized tunnel as well. It's the perfect height to accommodate a myriad of needs, not to tall and definitely not too short. There are two cabinets mounted on each side of the truck. Plus, there's a 42" high storage tunnel that connects forward cabinets between the main tank and the cab. Now, that's convenient!
The 6.0- liter V8 gas engine means you don't have to bother with finding diesel fuel. There's always a gasoline station around the corner. Since most Spray Truck associated jobs are typically in the local vicinity, you won't need the high torque of a diesel-powered truck anyway. Don't worry, you'll get plenty of power out of this truck. It packs a mean punch.
The truck is 14,500 Gross Vehicle Weight which is ideal for a Spray Truck. You don't have to worry about an extra operator's license. It's not going to be so heavy you'll get stuck but it's heavy enough to plow through whatever terrain you need it to get through.
The fiberglass main tank holds 600 gallons which will get you a long, long way in an Isuzu. There are double hoop baffles and four lateral baffles. Plus, you'll get an oversized super sight tube gage on the main take and 16" Fillwell-type lid on all of the tanks with loss prevention straps because…you never know when you'll be thankful you did have them.
The truck sports a 150/50 gallon drop tank, 2" drop lines with 2" poly ball valves for ease in moving water from the main tank to drop tanks. Two cabinets are mounted to each side of the truck.
You'll find separate tanks that pump and reel to eliminate cross-contamination. And, there's a KAPPA-55.3 diaphragm and pulsation dampener gear reduction that means less maintenance for you. The pump head PSI is 14.2 GPM/580. You'll also get pump mounted UDOR regulators.
Also making your job easier is an Innovations Oil Drain with a 5.5 HP@3900 RPM. The starter controls are conveniently mounted at the hose reels.
As far as the plumbing goes, there's a UDOR regulator with a manual dump valve so you'll never have trouble starting it. The jet agitation in drop tans is fully adjustable. There's a liquid-filled 1100 PSI pressure gage, 1-1/2" poly-filter with a caged screen, low corrosion stainless steel hardware and brass plumbing…of course. The freshwater spigot from the main tank is perfect for washing your hands or filling backpacks. And you get a two" remote fill pipe for the main tank.
You'll love the drive to and from the job site. Talk about comfy! This Spray Truck comes with a standard cab with ample room for you and a team member, or your wife,…or…the dog.
MJ TruckNation
With a mere $5,000 down and just $799 per month, this beauty could be yours. At MJ TruckNation, we have on-site financing so we'll do our very best to get you in this fine Work Truck. Give us a call at (561) 220-9992.