Go Out on a Limb – Get a Chipper Dump Truck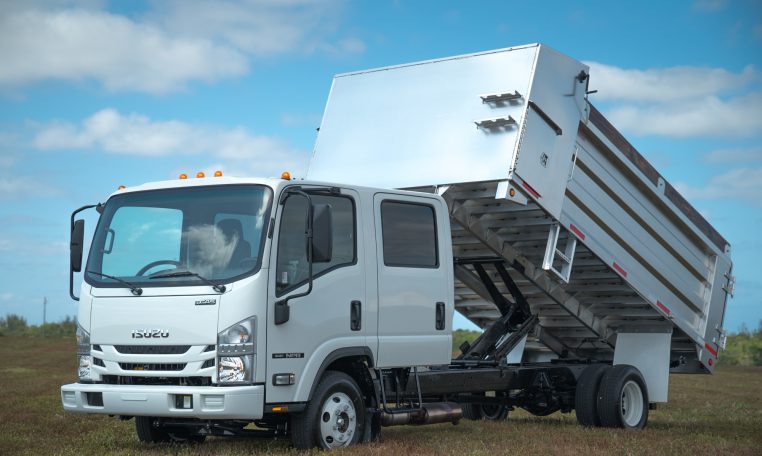 One of the most important vehicles in a landscaper's line-up is a Chipper Truck. This type of service truck is designed to haul wood chips from the jobsite. A woodchipper machine is often towed on the truck that directs wood chips right into a semi-enclosed chip box.
More About Chipper Trucks
Woodchippers are used for tree removal. They break down tree limbs, branches, and small trunks. The trucks are characterized by the opening at the tip of the rear wall that provides a chute which can be aimed to fill the dump body with woodchips.
In a Chipper Truck, you have all the conveniences to make your vehicle perfectly equipped for wood chipping such as semi-enclosed tipping chip boxes that are designed to tow woodchippers to and from the job site.
Chipper Trucks are constructed with Dump Truck bodies that are customized for woodchip work. They are able to haul away the leftover chips and other debris related to trees so that it can be dumped at recycling centers.
Size and Capacity
Chipper Trucks are medium-duty commercial work vehicles. They range in size from 11 to 14 feet as a rule. The gross vehicle weight is usually 14,001 to 26,000 pounds and they typically have chip box capacity ratings of 10 to 15 cubic yards.
Options
You'll have the option of standard or automatic transmission, gas or diesel, aluminum or steel, and the choice of custom features too. For the most part, if you can dream it, you can have it built. Many custom features are available.
Features
Chipper Trucks come with features such as floor, chassis, tailgate, and other parts that are heavily reinforced to handle the jobs they'll be doing. Corrosion-resistant coatings and protective liners in the beds add to their longevity. Most have multiple areas for storage and are able to accommodate ladders, pruners, ropes, chains, and other materials and tools. Air brakes, special safety latches, marker and strobe lights, push-button controls, and trailer brake controllers are added too.
Makes and Models
Fuso, Hino, and Isuzu are some of the most popular manufacturers of Chipper Trucks. The Isuzu NPR-HD series is one of the most efficient and economical on the market. Available in a 14-foot version with an aluminum body, the Isuzu Chipper Dump is an excellent vehicle for working in any field that deals directly with wood chips. The Isuzu NQR Dump Chipper is a great truck as well.
MJ TruckNation
If you are looking for a Chipper Truck, be sure to check out MJ TruckNation. We have Chipper Trucks in both new and used models. If you don't find what you're set on, we'll help you find what you want, or we'll make it for you. We are all about serving you.
With on-site financing, we are able to work miracles, even if your credit isn't pristine. We go out on a limb to make sure you get behind the wheel of the Chipper Truck of your dreams. Give us a call today and see what we can do for you. Call today – (561) 840-9800.