2011 Isuzu NPR-HD Spray and Pest Truck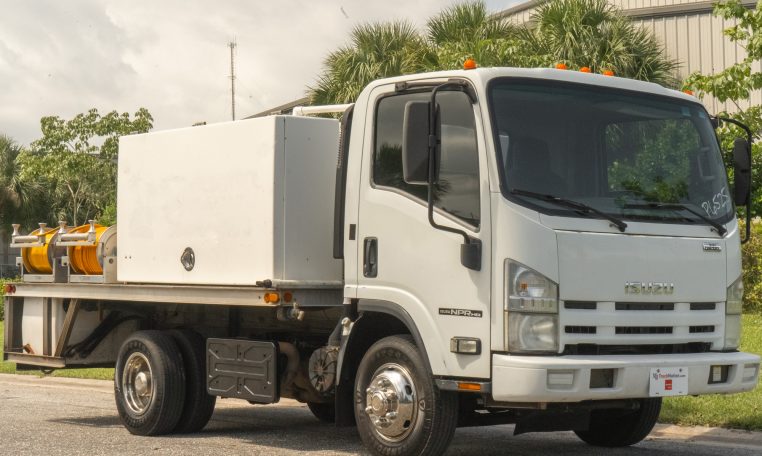 Do you own (or hope to own) a business that depends on spraying, you certainly need a great Spray and Pest Truck? Whether you are in the extermination, landscaping, or agricultural industry or have another spray endeavor, owning a dependable and affordable Spray and Pest Truck is a must. Check out this 2011 Isuzu NPR-HD Spray and Pest Truck that has all the bases covered…and then some.
What It's Got
The 2011 Isuzu NPR-HD Spray and Pest Truck have a lot to offer. It sports a 5.2-liter turbocharged diesel engine for peak performance and power.
This Spray and Pest Truck is 13.5 feet long, the perfect length for most spraying jobs, including landscape, agriculture, and pest control duties. The size of this truck is conducive to getting in and out of tight spots with ease but is large enough to support heavy liquids in the spray container. The wheelbase is 109", an ideal size for most spray and pest control equipment and supply accommodations.
The GVW of the Spray Truck is 14,500 which is the ultimate weight for such a work truck, heavy enough to be optimal for support, but light enough for maximum maneuverability. The weight of the truck doesn't require a Commercial Driver's License to operate.
Because this Spray and Pest Truck has an automatic transmission, it is a cinch to operate. No more hassling with a standard stick shift!
Diesel fuel powers this fine workhorse truck. That amounts to a tremendous economy at the gas pump and plenty of other perks using diesel fuel entails.
This truck is a single cab set-up that comfortably contains a driver and a passenger.
The Isuzu NPR-HD
Isuzu has been a trusted name in the commercial truck industry for decades. Headquartered in Tokyo, Japan, the company specializes in making dependable and affordable work trucks, like the 2011 NPR-HD Spray and Pest Truck.
The NPR-HD is one of the most popular sectors in the highly-acclaimed Isuzu N-Series. It is notorious for going above and beyond to equip workers with all they need to successfully use their work vehicle in various industries and to provide the ultimate in comfort while doing so.
Rock-Bottom Price Tag
At MJ TruckNation, we take great pride in offering our customers the best prices around. This 2011 Isuzu NPR-HD Spray and Pest Truck are available for a rock-bottom price tag of just $26,980. That's an incredible steal of a deal! What's more, we have onsite financing which means we can go above and beyond to get you behind the wheel of this Spray and Pest Truck or any other truck you have your eyes on. Call us today and see what we can do for you – (561) 220-9992.