2015 Isuzu NPR-HD Box Truck with Palfinger Lift Gate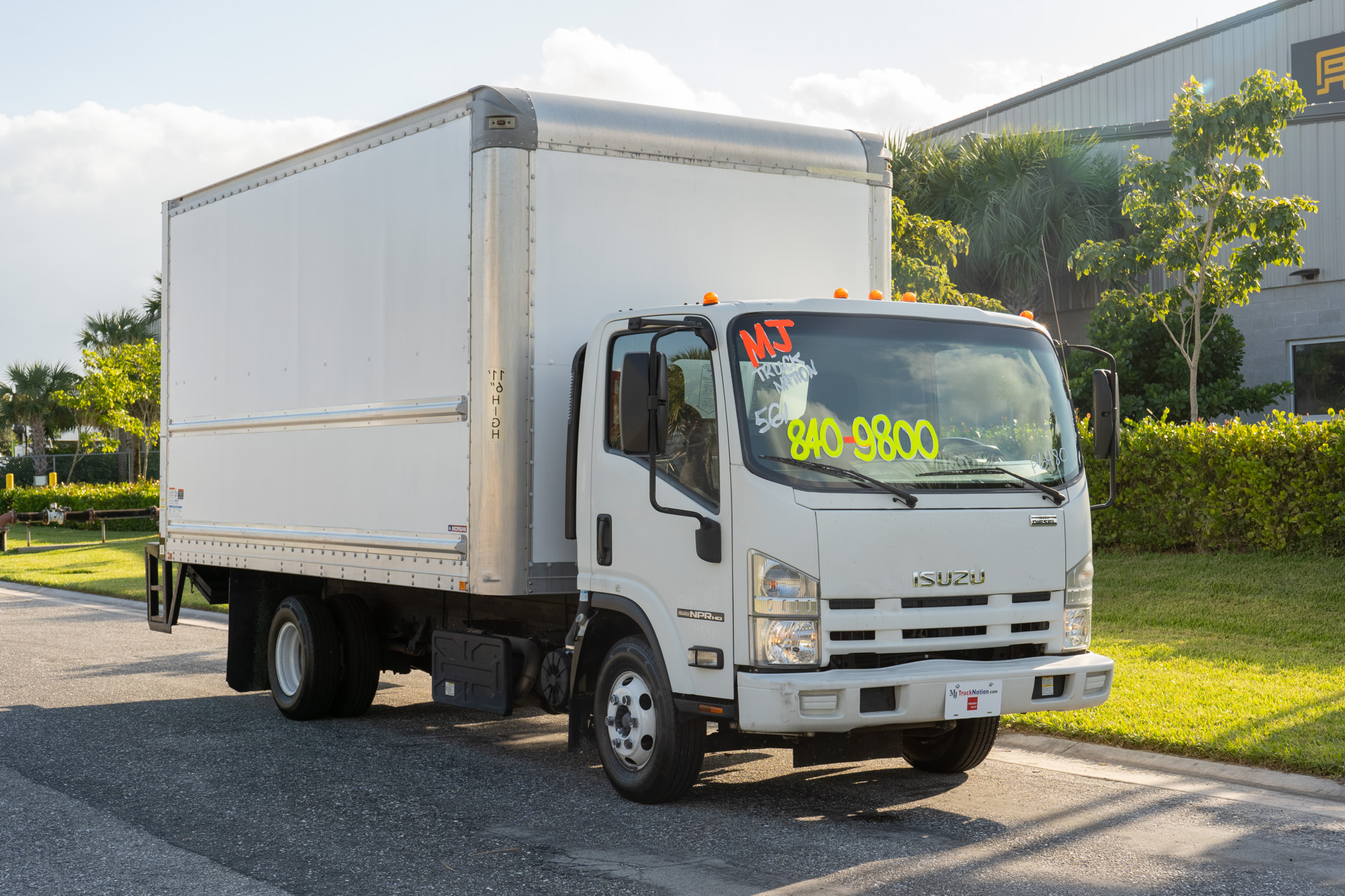 This 2015 Isuzu NPR-HD with Palfinger Lift Gate Box Truck is ideal for those who need a beast of a vehicle for their livelihood. From moving companies to furniture delivery businesses, this workhorse will get the job done.
The body is a 16-foot Morgan, the ideal length for a Box Truck. It has two rows of E-Trac to secure cargo. You'll have ample room to haul a wide variety of things, like furniture, construction material, appliances, or a full home of belongings. It's not too big though, so you'll save money on the initial purchase as well as on gas. Plus, you won't find yourself stuck out when it comes to parking and getting through tight spots.
Talk about powerful! This Isuzu Box Truck comes with a 5.21 turbocharged diesel engine. The cab is a nice and roomy standard. The Gross Vehicle Weight is 14,500 so you don't have to have a commercial driver's license in order to operate it.
The box boasts a Palfinger Tuckaway Liftgate, the ultimate in gates. It has the capacity to hold up to 2500 pounds and opens and closes with ease – a feature that is priceless when it comes to working out of the truck. You sure don't want to hassle with the lift when you have tons to move, literally. This truck is excellent to accommodate moving furniture, transporting heavy goods, and moving most anything.
With only a little over 107,000 miles on the truck, the Isuzu is in great shape for a 2015 model. Because it's an Isuzu, it requires minimal maintenance. Isuzu is a world-wide trusted name in commercial vehicles. Isuzu has been around for decades and isn't going to disappear anytime soon. The company strives to make excellent work vehicles that are affordable, durable, and comfortable. Millions of Isuzu commercial vehicle drivers think they have achieved that goal.
This Box Truck has an automatic transmission that makes it very easy to drive and operate. You won't have to worry about shifting gears. You'll find this truck is very economical in fuel mileage too, especially since it runs on diesel.
At MJ TruckNation, we are dedicated to serving our customers by helping them get in the Commercial Vehicle of their choice, like this 2015 Isuzu NPR-HD with Palfinger Lift Gate Box Truck. We have a nice variety of Commercial Vehicles on the lot and if we don't have what you're looking for, we'll build it for you or find it for you – guaranteed!
With a price tag of just $29,980.00, this is a steal of a deal. We have onsite financing so we are able to arrange affordable payments with approved credit. This powerful Box Truck is only $549 per month. Now that's an incredible bargain! Let us get you in this awesome truck. Give us a call today at – (561) 220-9992.