2020 T880 Kenworth Day Cab
Meet the Beast!

If you are in search of a great new Day Cab, check out this beauty.  It has it all from a manual transmission to boasting a mere 50 miles.
Slide on into the spacious black seated, non-sleeper cab area and get behind the wheel.  You'll have all the power you need with the Paccar MX-13 (MX-13 455@1600 1650@900) engine that is extremely durable and reliable.  The VSL Expiration Distance is N717 0. 
This truck is standard length so you can easily get in and out of anywhere eighteen-wheelers travel.  It's a powerhouse workhorse, able to get the job done.
The LRSL Speed Limit is N718 155 while the Max Pedal Speed is N711 64.  Engine Idle Speed (N052) is NO52 650. 
This Day Cab has a 2017 engine break so you can practically stop on a dime. The Delay Time is N874 0.  It sports N015 NO to Enable Retarder During Manual. 
The steering wheel is an efficient and comfortable 18" and the Air Ride Suspension assures you'll have a smooth ride every time. 
One of the best things about this Kenmore Day Cab is that it is everything and anything you want it to be.  Do you need a Dump Truck?  Logging Truck?  Mixer?  Tanker?  Heavy Hauler?  Maybe you are looking for a Refuse Truck.  Whatever it is you want in a truck, you've got it in this mighty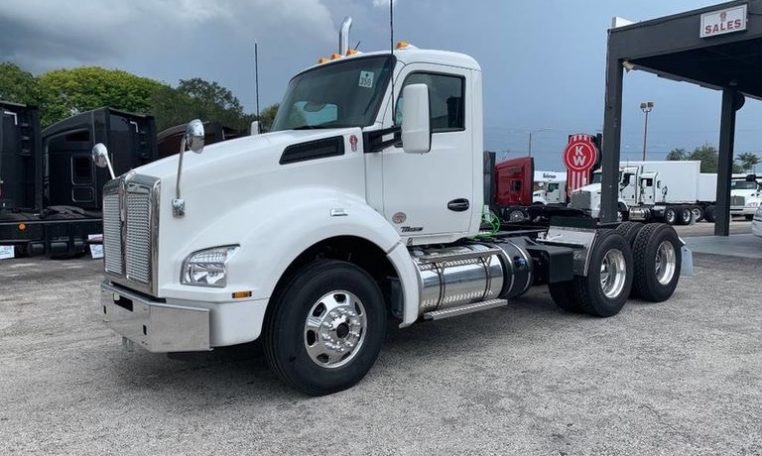 .
It's not often that you find a truck of this magnitude.  It's got the stamina and speed you need and the dependability you deserve.  The Kenmore name says it all…and then some!  You simply can't go wrong with this flexible beast.
You won't believe the fuel economy this truck has to offer.  It comes with an engine monitoring protection and Paccar MX engine parameter with PT Optimization to maximize fuel mileage.  MX Retarder State Cruise Control is another awesome feature. 
Complete with all the bells and whistles, this Kenworth Day Cab has Base cab speakers and high-quality speakers in the doors too.  It is super comfortable to ride in and is also ready for a CB to be installed so you can get on down the highway in it. 
MJ TruckNation
If you have a local delivery business or work a job in the trucking industry where you don't have the need for a sleeper cab, this Day Cab is ideal for you.  If you don't have one, what are you waiting on? 
The trucking industry is one of the most flexible, sustainable fields of work in the nation.  When other jobs go belly-up, trucking occupations just keep rolling out the work.  With a Day Cab, you can be as versatile as you need or want to be.
This truck is available at MJ TruckNation.  It comes with a rock-bottom price tag and financing is available for qualified buyers.  Once the deal is done, we don't stop there.  Our fantastic Parts and Service department will accommodate any and all needs you have from then on out.  Give us a call today and let's get you in this great Kenworth Day Cab – (561) 220- 9992.