Dirt Hauling: Get a Dump Truck and the Rest is Downhill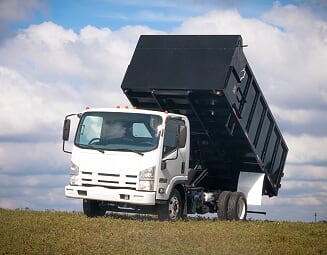 Looking to get your own dirt hauling business off the ground? Starting your own dirt toting company requires minimal investment so if you're ready to get rolling, here's how:
You'll need a trusty Dump Truck. It doesn't have to be new or cost a fortune, but it needs to be dependable or you'll never be able to keep your customers. While you can sink tons of cash into a Dump Truck, if you don't have it, don't. You can find a great deal on a used Dump Truck at MJ TruckNation.

Be sure you are well trained in the area of dirt hauling. What you lack knowledge in, get busy learning. Talk to those who've been in the industry for years and ask questions.

Create a detailed business plan. You'll need to think of a great name and have it registered. Check with state and local authorities to see what you need from them. All areas are different so don't take it for granted that you know. You'll also need a tax number, insurance, and possibly, bonding. If you're going to have employees, you'll want to begin interviewing. Don't neglect to set your tax program up even before you get your business actually going.

If you don't already have one, you'll need to secure a commercial driver's license. With a little studying and the driving skills you hopefully already have, acquiring the license shouldn't be an issue. You'll also need a Dump Truck permit in order to operate your vehicle. You'll need a Department of Transportation Number and a Fuel Tax Sticker and then…you're in business.

Collect the tools you'll need to get a broad spectrum of jobs done. You'll need shovels, picks, rakes, and maybe even small machinery equipment, depending on the exact specs of your jobs.

Build your business by getting the word out. Have an upper edge on what you offer such as being the fastest, cheapest, or offer extra incentives. It's a good idea to advertise online and in-person too. Add your service in your town's local online section, pass flyers out, post signs, and keep plenty of business cards on hand. Encourage your customers to send referrals and to come back for repeat business by offering them something. The more you give, the more you'll get in return.
MJ TruckNation
If you're in the market for a new or used Dump Truck, you're in luck. At MJ TruckNation, we have a wide selection of Dump Trucks for you to choose from so you are sure to find one that's the perfect match for your needs. We deal with famous manufacturers like Isuzu, Hino, and Fuso. If you don't see the Dump Truck you want on our lot, we'll find it for you or custom make you one. Guaranteed!
The MJ TruckNation staff members are helpful and friendly and we have on-site financing too. Come on in and see what we can do for you or give a shout at (561) 220-9992.