The Scoop on Dovetail Landscape Trucks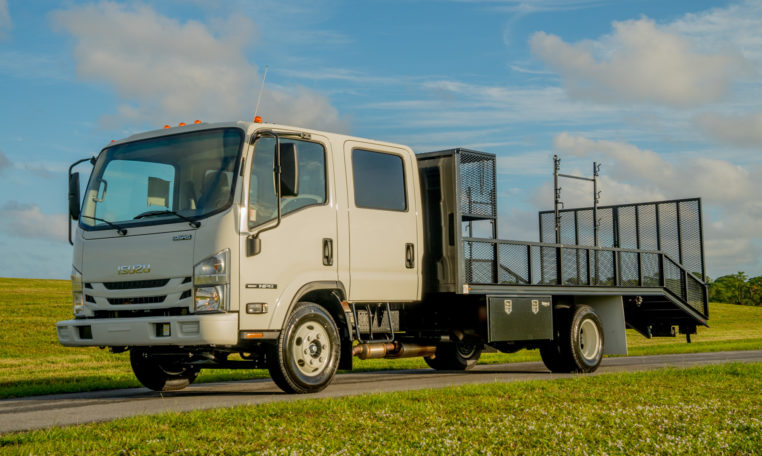 If you have a landscape company, a Dovetail Landscape Truck might be just the thing you need to get your business off the ground.  Fully equipped to accommodate the multi-faceted needs of lawn work, this truck is rooted in power and blossoming with benefits.
What's a Dovetail?
A Dovetail Landscape Truck defines trucks and trailers that have a loading ramp. A Dovetail is also called a Beavertail. The Dovetail type of truck isn't limited to landscaping. They are also used in vehicle recovery and many other services too.
Dovetail Details
A Dovetail truck is called a Dovetail because of the Dovetail ramp.  The Dovetail ramp is called a Dovetail because of the Dovetail design on it – a joint that folds down at one end and on the other end, folds to rest on the floor, or bed, of the truck.  This configuration makes it a cinch to load and unload equipment, like riding lawnmowers, tools, and supplies.
Smaller Dovetail Trucks have ramps that are able to be folded down manually.  Larger ones, however, may be equipped with a hydraulic-powered lift.  The ramps are available on detached trailers too. 
Beavertails can be found in all types of construction, such as aluminum, iron, steel, and more.  The intended use of your ramp will help you decide which material is best suited for your purposes.  If your load will involve a heavy piece of equipment, like a large riding lawn mower or tiller, you'll need a Dovetail that is made with very sturdy material.  If your load is not heavy, a lighter material will be less expensive and easier to lift up and place back down.
Dovetail Trucks
Dovetails come in all shapes and sizes and are available in many types of trucks that range from really small pick-up trucks to larger vehicles, like flat-beds, and semi-trucks with semi-axles.  You can purchase a truck or trailer that is already equipped with a Dovetail, or you can have one custom outfitted on a new or used truck, trailer, van, or flatbed.
About Isuzu
One of the best pre-fit Dovetail Trucks is the Isuzu.  Isuzu is a leading manufacturer of commercial vehicles. Headquartered in Tokyo, Japan, Isuzu prides itself in quality that is second to none, and affordability.  They also put a high priority on comfort and ease of operation. The Isuzu Company has been in business since the 1940s.  A subsidiary of Isuzu Motors is in Anaheim, California. 
The Isuzu NPR Line
The N-Series of Isuzu commercial trucks range from Class 3 to Class 5 vehicles.  Dump trucks, street sweepers, refrigerated and dry van bodies, car carriers, and landscape trucks fall under the N-Series.  The trucks are available in diesel power, gas power, and those with gas CNG and LPG capabilities.  Seating is typically available for up to 7 occupants.
The NPR line of Isuzu commercial vehicles debuted in the mid-1980s.  Available in gas and diesel fuel power versions, they are built to last and have continued to be very popular throughout their time in existence.  The gas-powered NPR has a 6.0L V-8 Vortec engine with a 6-speed automatic transmission and a lockup torque converter.
The diesel-powered Isuzu NPR version sports a 4JJ1-TC turbocharged and inter-cooled diesel engine.  It has a 6-speed auto transmission with double overdrive and lockup on 2-6th gears.
You'll find a nice selection of both new and used Isuzu NPR Dovetail Trucks.  Whether you are looking for a large truck that can handle a really heavy load or a smaller truck that is easy to maneuver for a lighter load, you are sure to find an Isuzu to suit your wants and needs.  Just get your specs together so you know what size of the bed, type of ramp, and cab space you need and you'll have a good idea of which truck is your best fit.
The NPR equipped with a Dovetail is the ultimate vehicle to dig into all the needs of a landscaping business.
Other Dovetail Trucks
Hino, Ford, and many other manufactures make Dovetail Trucks or trucks that are Dovetail capable. No matter what your preference in a Dovetail Truck is, we'd like to invite you to check out what we at MJ TruckNation have to offer.  If we don't have it on our lot, we'll get it for you or custom make one. Guaranteed!
At MJ TruckNation, we'll work with you to meet your individual needs in a Dovetail Truck and to accommodate your budget too.  Get in touch today and see what we can do for you.  Call (561) 220-9992.