Isuzu Spray Trucks: Exploring Different Models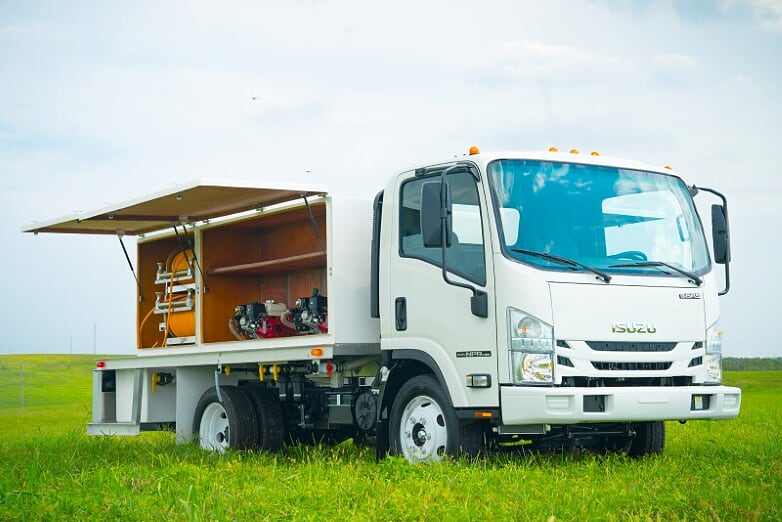 Isuzu makes some of the best Spray Trucks in the world. They make a lot of them too, not only do they produce mass quantities, they make a wide selection of different models too. Deciding which Isuzu Spray Truck is right for you can be overwhelming. Read on to make choosing your perfect fit can be made simple.
About Isuzu
Isuzu is a leading name in the Commercial Truck industry and in in the personal vehicle line too. In 1984 the first Isuzu Truck arrived at the Port of Jacksonville, Florida. Today, over 500,000 have made their way to the US.
Isuzu Commercial Trucks are wildly popular among those who make their living behind the wheel. Economy, reliability, and comfort are some of the main reasons workers all across the nation depend on Isuzu Trucks. Isuzu Spray and Pest Trucks are some of the most purchased of all the Commercial Vehicles the company makes. They are available in a wide assortment of models so there's one for almost any spray and pest requirement.
Isuzu is committed to pursuing advancements in technology in order to bring their customers the ultimate experience. They have a great reputation for never making their customers settle for anything or to do without just because of the bargain price tags on their Spray Trucks. Research and improvements are being made every day, making Isuzu Spray Trucks one of the most beloved Commercial Vehicles on the market.
NPR-HD
Isuzu is a standout truck in the medium-duty truck lineup. You'll find both gas and diesel configurations. NPR-HD are known for their versatility, affordability, and their dependability as well. Their chassis configurations can handle truck bodies ranging from 10 to 24 feet.
Nelco, Truflex, FLS1, FLS2, RK, RF, and RM are among the Spray Truck models in the NPR-HD line. The typical Gross Vehicle Weight on the trucks is 14,500 which is ideal, light enough to maneuver through almost any situation you may encounter when spraying, and heavy enough to handle the obstacles.
Although Spray Trucks are available in many lengths, the typical NPR-HD Spray Trucks are 14 feet, a happy medium for handling most irrigation and spraying jobs. Most come equipped with automatic transmissions which frees up drivers to operate the sprayers but they can be purchased with standard transmissions for those who prefer them.
MJ TruckNation
If you are looking for an Isuzu Spray Truck, be sure to check out MJ TruckNation. We have a large array of Isuzu Spray Trucks including the NRH-HD models like RF, RM, RK, and FLS1. We are here to serve you and look forward to helping you find the Spray Truck that's the perfect solution for your needs. We guarantee if you don't find the truck you're looking for, we'll find it for you. And talk about service, if you aren't in the South Florida area where our dealership is located, buy online and we'll deliver it to you. Now that's a sweet deal!
Give us a call at (561) 220-9992.