Isuzu Spray Trucks – NPR-HD Beast of Burden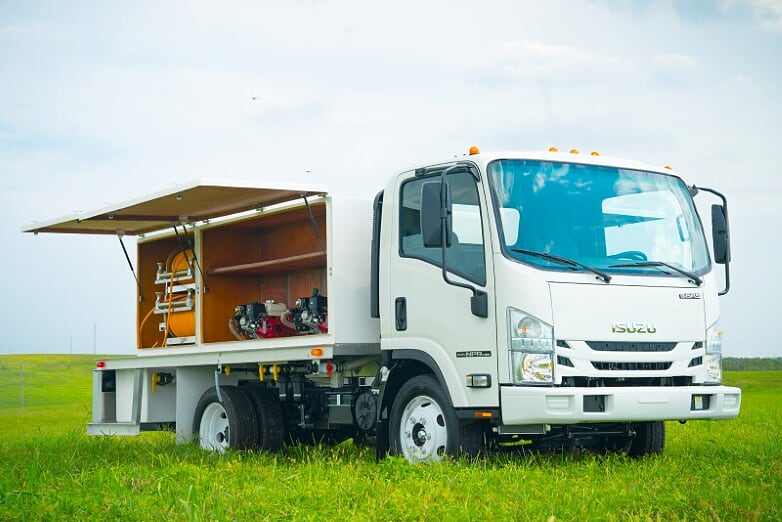 Looking for a Spray Truck? If you are, you'll find Isuzu carries some of the best, most affordable ones on the market. Built to last but light enough to maneuver with ease through most any situation you might encounter, Isuzu NPR-HD series (like FLS1, and FLS2) models are excellent Spray Trucks.
Who Needs a Spray Truck?
A Spray Truck is a commercial work truck that has the capacity to hold a tank used for holding liquid. The trucks are used in many areas such as the pesticide, agriculture, and landscaping industries. Spray Trucks can be customized so they can be optimized to perform the specific duties necessary for the job they're needed for.
Isuzu NPR-HD Series
Truflex, Nelco, FLS1, FLS2, RK, and RM are some of the Spray Trucks in the NPR-HD line up. The average GVW is 14,500, making them light enough to maneuver but heavy enough to get the job done.
The Isuzu NPR-HD Spray Truck series come in gasoline or diesel driven types. Choose between a standard or a crew cab. They are also available in automatic or standard versions. Isuzu is good about making their vehicles economical so everyone can afford one yet very sturdy and dependable as well.
Another area Isuzu excels in is making the ride comfortable which is great since you'll probably be spending a good amount of time in your Spray Truck no matter which industry you work in.
Isuzu is a popular manufacturer in medium-duty trucks. NPR-HD are known for their versatility, affordability, and their dependability as well. Their chassis configurations can handle truck bodies ranging from 10 to 24 feet.
Although Spray Trucks are available in many lengths, the typical NPR-HD Spray Trucks are 14 feet, a happy medium for handling most irrigation and spraying jobs. Most come equipped with automatic transmissions which frees up drivers to operate the Spray Trucks but they can be purchased with standard transmissions for those who prefer them.
MJ TruckNation
If you're in the market for a Spray Truck, check out MJ TruckNation. We have a nice selection of new and used Spray Trucks in all different makes and models including Isuzu's NPR-HD series like the FLS1 and FLS2. Our friendly and helpful team members can help you find the perfect fit for your needs.
We have on-stie financing, so we are able to help you drive off in your new Spray Truck even if you don't have perfect credit. And, if you don't live in the South Florida area where we're located, we'll bring your Spray Truck to you. How's that for service?
Give us a call today – 561-840-9800.