Introducing the New 2020 Hino 155 DC Cab and Chassis
Pick Up, Deliver, and Landscape in Style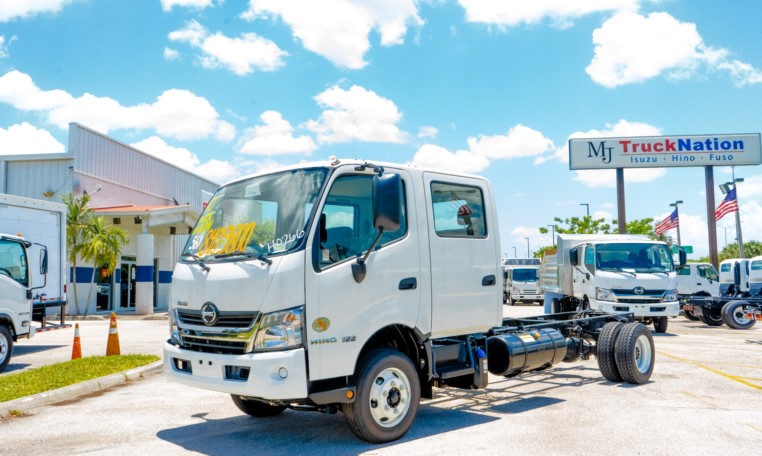 Got a load to pick up or deliver?  Or, maybe you have a landscaping business to run.  This brand new 2020 Hino 155 DC Cab and Chassis will get (and keep) you moving.
This truck is a power-horse!  You'll never have to wonder if your truck can handle the job.  It can!
Hino – A Name You Can Trust
Hino Motors sets the standards in Commercial Work Trucks.  A leading international brand, Hino hails from Tokyo.  It is a subsidiary of Toyota.  Founded in 1942, Hino has brought power and reliability to Commercial Vehicles for decades.
Hino is appreciated for producing powerful vehicles that seem to run forever.  With a focus on affordability, they have been well-received by the trucking world, especially in the United States.  Comfort has always been a top priority as well.
What This Hino Has Got
The 2020 Hino 155DC is a Cab and Chassis that is well-equipped to serve a multitude of needs.  Similar to the 195-DC, this model boasts expert maneuverability in even the tightest of workspaces.
Hino highlights the economy in its vehicles.  Because this truck is a diesel, you'll save money on fuel.  Diesel is known to be more economical at the pump for Commercial Trucks. 
Because it's a Crew Cab, you and your crew will ride in sheer comfort.  It seats up to seven people.  That's a lot of room!
This great Hino Work Truck features standard telematics, remote diagnosis, and case management, helping to assure you never get stuck out.  You'll also get Hino Insight and Hino WatchCoverage.
You never know what pulling up to a fuel tank might entail.  When you're in a truck, you can face timely delays just waiting to access the fuel you need.  Hino has already anticipated the issues that could be presented and therefore, equipped this truck with multiple fuel tank locations. 
Options are always plentiful when you choose a Hino.  This truck has wheelbase options to accommodate almost any need.
The 2020 Hino 155 DC has a 5L 4-cylinder diesel engine with 210 horsepower and 440 lb-ft of torque for ultimate power.   The trucks is 14,500 pounds in Gross Vehicle Weight and has a Gross Carry Weight of 20,500 pounds.
The MJ TruckNation Promise
At MJ TruckNation, we would love to help get you in this brand new Hino155 DC Cab and Chassis.  This powerhouse truck can't be beaten.  And, neither can we.  We have on-site financing so we are well-equipped to help you get in this beast for a price that perfectly matches your budget. 
If you don't find this truck or another truck on our MJ TruckNation lot suits your needs, we'll make one for you or find you one.  That's our MJ TruckNation promise.  Give us a call today and let us get you rolling on down the road is a Hino or other fantastic Work Truck – (561) 220-9992.