Stake Flatbed Truck Solutions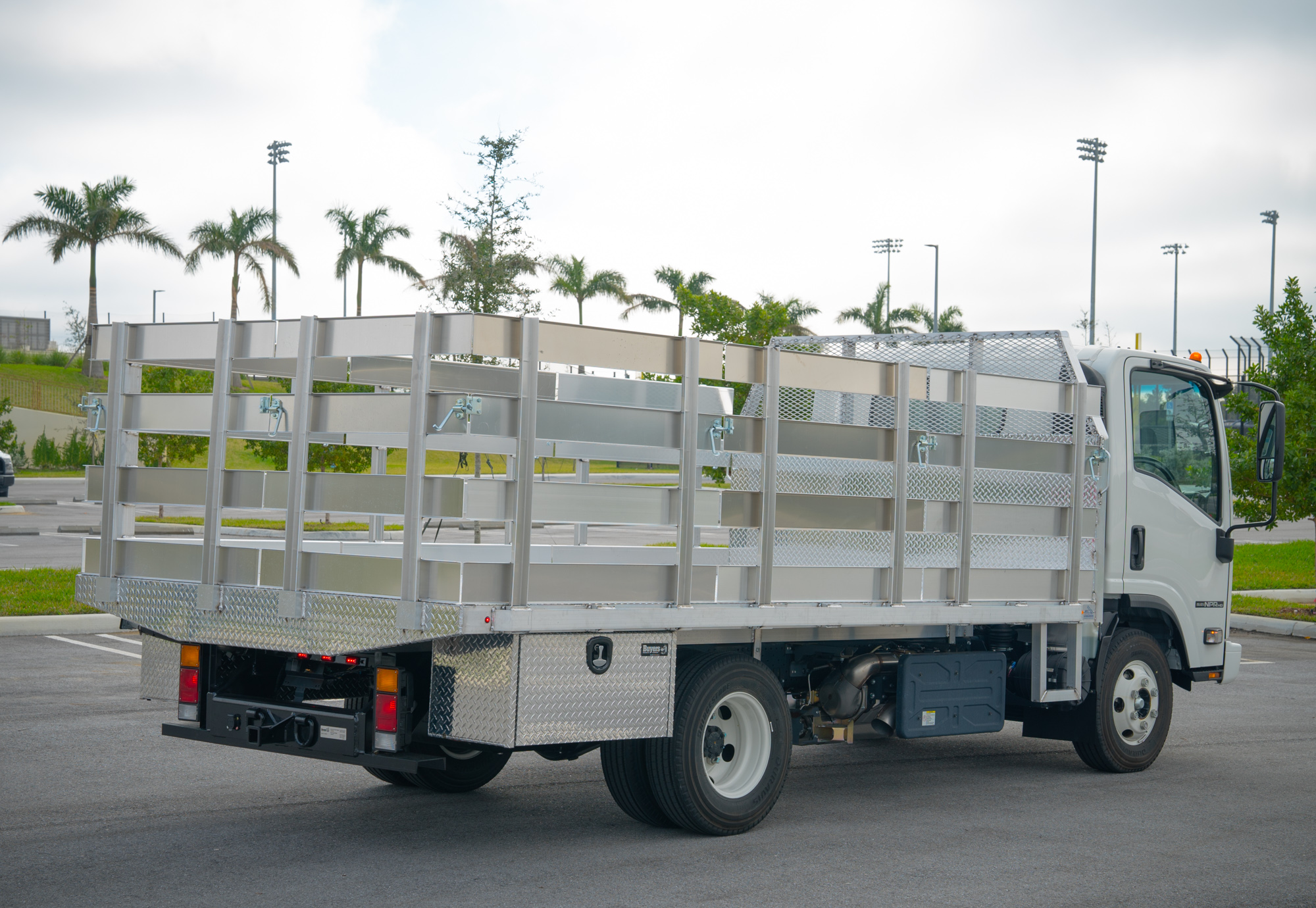 When you need to protect your load, a Stake Flatbed truck is the perfect answer. This type of commercial truck has pockets to fit stakes in so you can secure and contain the materials and equipment you are carrying so you don't have to worry your load will fly out, damaging your goods and possibly injuring yourself and others.
What is a Stake Flatbed Truck?
A stake flatbed truck is like a flatbed truck except it has the sockets for stakes to be placed in. It comes equipped with stake pockets so metal or wooden rail-slides along the edge so upright stakes can be inserted. The stakes act as a fence on the bed, securing your load.
Used and new flatbed trucks have beds that are open except for the stake fencing, allowing them to accommodate irregular-sized loads. Since there are no barriers, like truck walls, roofs, and enclosures, it is easy to load and unload them.
The stake fencing gives support to secure machinery and materials that are being transported in the bed. The stake sides can be temporarily taken off when they aren't needed.
Stake flatbed trucks can handle massive weights. They are available in various truck sizes and axle sizes too. Because the Federal Motor Carrier Safety Administration (FMCSA) has strict regulations concerning safety when hauling, stake flatbeds make compliance possible.
What Are Stake Flatbed Trucks Used For?
There are many uses for a new or used stake flatbed truck, including:
Construction
The construction industry is notorious for hauling materials and pieces of equipment that are very heavy and irregular in size, like boards, sheetrock, large saws, and so forth. Stake flatbed trucks make transporting such things possible.
Automobile Hauling
Flattened vehicles and large car parts are among the many items that the automobile industry hauls. A stake flatbed provides the heavy-duty support of a regular flatbed truck with an added layer of security from the stakes to keep them in place.
Agriculture
The agriculture industry definitely benefits from the use of stake flatbed trucks. From hauling produce, seed, and hay to the heavy equipment required for growing and reaping, trucks with stakes offer protection for the loads.
Landscape
Those working in the field of landscaping are prime candidates for stake-type flatbed trucks. Dirt, paving stones, plants, trees, and lawnmowers are typical materials and equipment that landscapers use which can be easily transported in a secured flatbed.
Stake Flatbed Truck Options
When choosing your stake flatbed truck, you'll have a number of options. Some factors to consider are:
Size: Flatbed trucks with stakes come in three basic body sizes – light, medium, and heavy-duty. The best size is determined by the weight, amount, and size of the loads you'll be transporting. Typical stake flatbed trucks range between 8 and 26 feet in length and are built to hold loads of 1,000 up to 4,000 pounds of weight.
Racks and Decking: If your business transports goods that might slide and fall, even with the use of side stakes, you might consider getting a stake flatbed with racking. Standard racks are 36" but you can retrofit taller ones if need be. Decking also helps prevent slipping and sliding. Decking is a coating of non-skid paint that is applied to the bed surface. It comes standard in some models but can easily and cheaply be added otherwise.
Lift Gates: A liftgate is another additional feature that is very beneficial in a stake flatbed. A liftgate makes it easier to load and unload heavy items from the truck bed and minimized hazard risks. Some trucks come with a lift, or one can be added on.
Toolboxes: Having a mounted toolbox is very advantageous. It makes it easier to keep up with tools used on the job site and helps keep them secure from thieves too.
MJ TruckNation
When it comes to new stake flatbed trucks, MJ TruckNation has a lot to offer. Check out our inventory and remember, if we don't have the truck and features you're looking for, we'll find one for you. Give us a call today at (561) 220-9992.