2019 Isuzu NRR Bucket Truck
Get Your Tree Trimming Business Booming with This Terrific Truck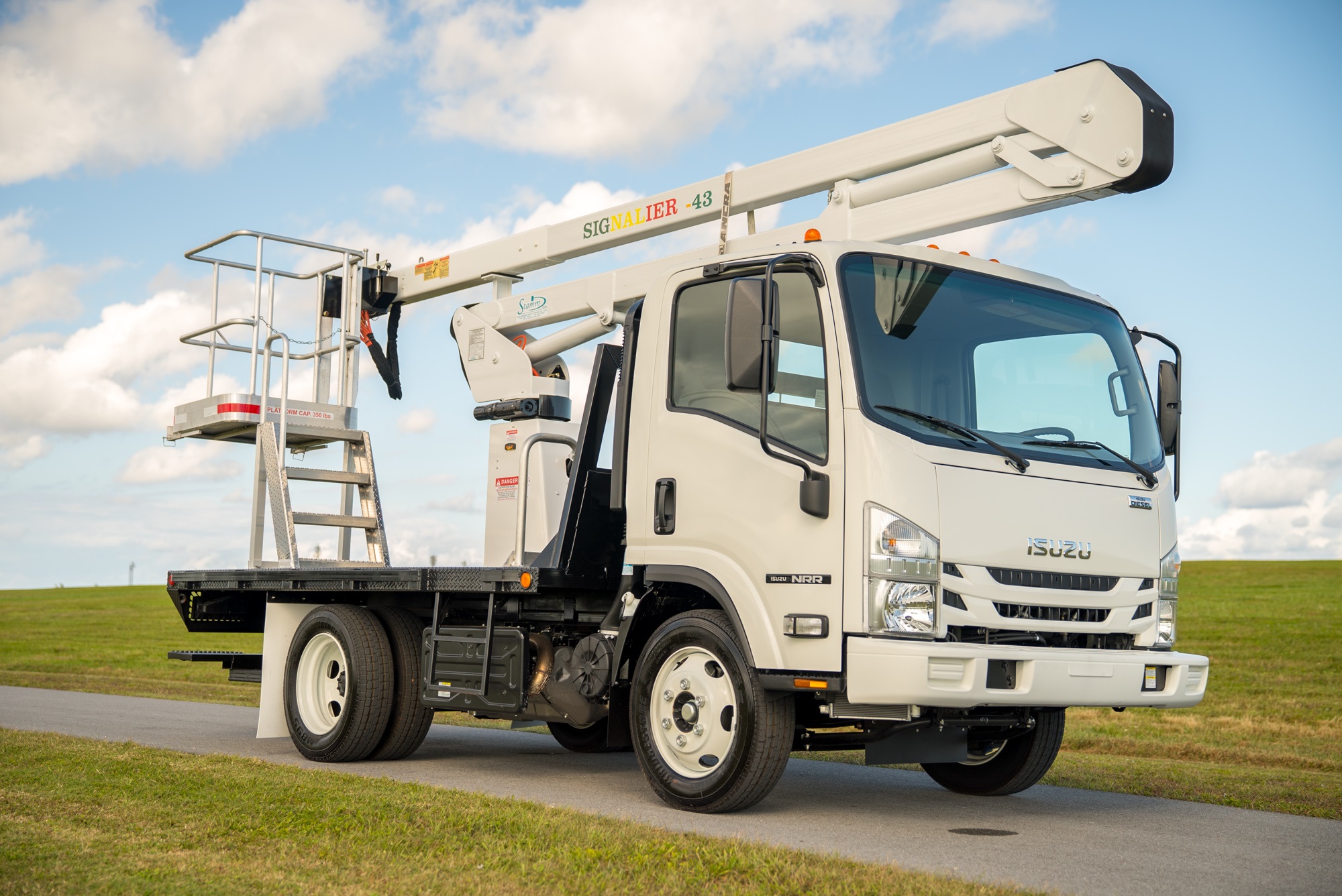 Want to get your Tree Trimming Business off the ground?  This powerful 2019 Isuzu NRR Bucket Truck has what it takes to make your job a cinch.  It's super affordable too – so you can focus on making profits, not payments. 
Here's what it's got:
This 2019 Isuzu NRR Bucket Truck sports a 5.2-liter diesel engine.  It's packed with power to accommodate all your needs in a Commercial Work Truck.  Being a diesel-fueled truck means you'll get economical mileage.
The Gross Vehicle Weight is 19,500 pounds which is the ideal weight.  You won't have to acquire a commercial driver's license to operate this Bucket Truck which will save you time and money too.
The lift is a Stamm Signalier, one of the best in the industry.  It is a P.T.O power pump, 3.0 GPM.  It's fully equipped with an insulated boom for your safety and comfort.  There's a 12 volt D.C. emergency pump too because you can't be too safe when working on a Boom Truck.
With the proportional hydraulic control, you can operate the
with ease and precision.  There's a torsion bar and the platform is aluminum in construction, 30"x30" in size.  The platform capacity is 350 pounds which is excellent for most needs you would ever encounter.  There are aluminum steps to and from the platform. 
The working height of the bucket in this truck is able to extend 43 feet so you can reach even the tallest limbs on a tree.  The horizontal reach is 23 feet.  For stowing, the height is 10 feet, 5 inches. 
The Bucket Truck comes with a 2 inch rear receiver hitch that accommodates 8,000 pounds.  It has a 12-foot Flatbed Steel Diamond Plate Floor which is the ultimate in strength and innovative design.  There are two handy toolboxes that measure 24"x24"x60". 
All units meet and even exceed OSHA and ANSI/SIA standards.  We wouldn't have it any other way!
Let's Talk Price
MJ TruckNation is a trusted Commercial Vehicle dealership located in the South Florida area.  We take great pride in treating our customers with the respect they deserve.  We have a wide variety of Work Trucks on our lot and offer a guarantee that if we don't have what you want…either custom-make it or find it for you. 
While some dealerships drag their feet when it comes to divulging the price of their trucks, we are quite the opposite.  At MJ TruckNation, we can't wait to get to the best part of all.  With on-site financing, our prices are always spot on.
This workhorse Tree Trimming Truck is only $1,409 per month and a mere $5,000 down when you have approved credit.  Our in-house finance team is pro at finding a way to get you in the vehicle of your dreams.  Stop by and see us, or give us a call at (561) 220-9992 and see how we can help your Tree Trimming Service reach new heights with this powerful and economic Tree Trimming Bucket Truck.