Leveling Up:  Understanding Boom Truck Specs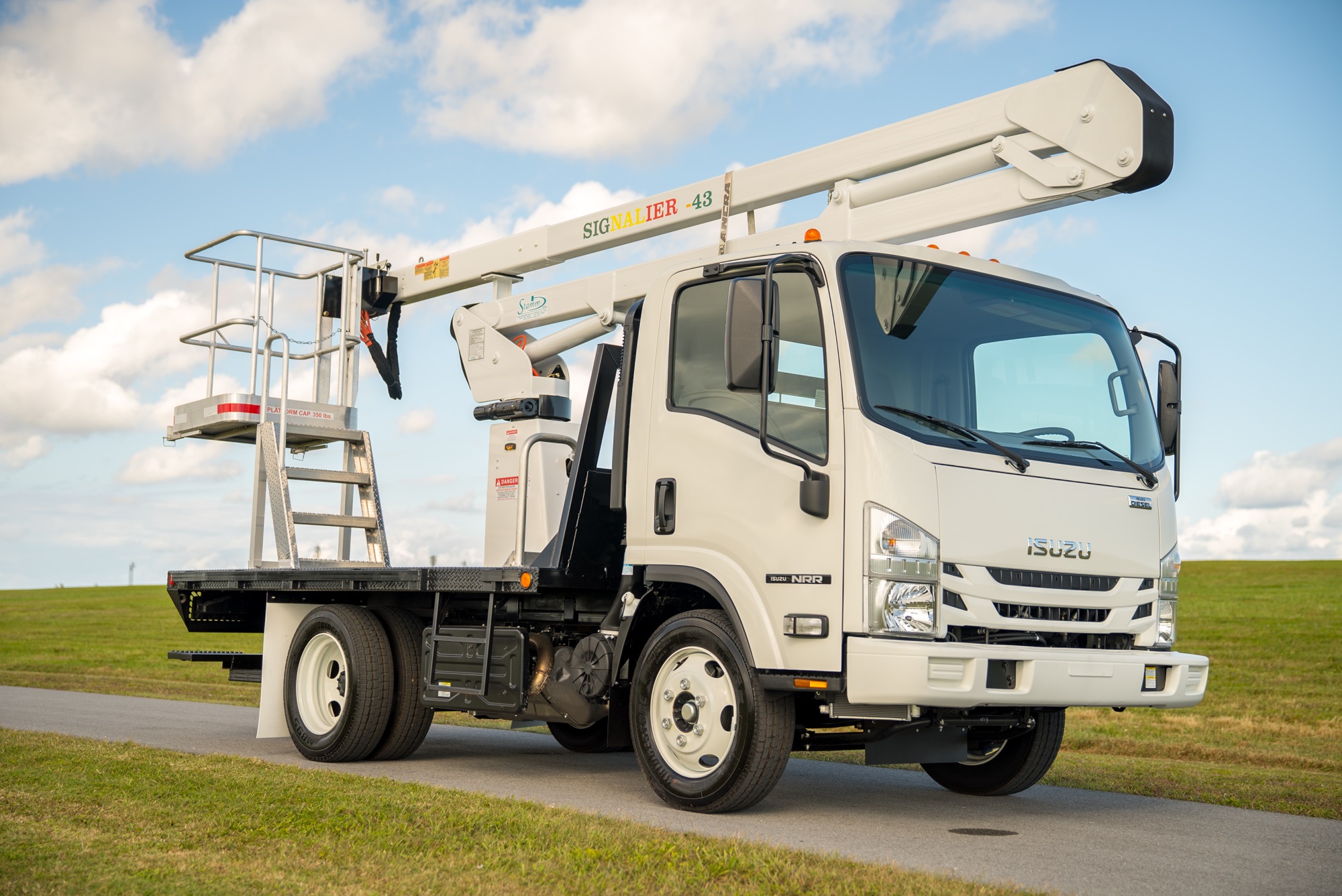 Boom Trucks (also known as Bucket Trucks) are powerful vehicles that are equipped with a bucket lift that can elevate your service business to all new heights.  A Boom Truck enables you to reach areas you couldn't otherwise access like tall roofs, high windows, treetops, electric wires, parking lot and warehouse ceiling lighting, and communication wiring.
A Bucket Truck can be a lifesaver or…it can be a complete waste of money. If you buy a Boom Truck for your lighting business but sadly find the lift isn't high enough for the work you generally do…yeah…BOOM.
The bottom line is – it's imperative to purchase the best Boom Truck for your individual needs.
Who Uses Boom Trucks?
Landscapers, electricians, lighting specialists, painters, window washers, arborists, construction crews, and a myriad of other workers benefit from the use of a Boom Truck.  If your job entails reaching high spots, you need one too.
While Boom Trucks can be rented, if you find you're renting one very often, you might consider purchasing one.  If you do, be sure to check the specs first.  While Bucket Trucks can be outfitted and parts can be changed out sometimes so that your investment isn't a total waste, getting it right the first time is priceless.
Understanding Boom Truck Construction
Think of a Bucket Truck as a mobile crane that's mounted on the top of a hauling truck.  A Bucket Truck can be driven on regular roads with the "crane" (or boom or bucket) attached so you don't have to hassle with a separate vehicle to transport a crane.
Cabin
Boom Trucks have features that are similar to mobile cranes in that they have an operator cabin.  The Boom Truck cab is just like other hauling truck cabs.  The cabins are usually a fixed cabin where the operator sits and steers the machine or a swing cabin that is separate from the driving area and is a moving compartment that's located on the flatbed.
Boom
The arm that does the heavy lifting is called the boom. It can lift, load, and move a load.
Most Bucket Trucks have a telescopic boom which is an arm that is able to extend straight out.
Jib
With a jib, the boom is capable of extending longer than it normally could.  The extension can be mounted on the arm's tip, enabling you to lift objects further and higher.
Flatbed
The flatbed of a Boom Truck is the flat surface that's generally used for transporting loads such as equipment and material.  On a mobile crane Boom Truck, however, the operator's cabin may be on the bed instead.
Rotex Gear
These gears may be mounted on the flatbed and underneath the swing cabin.  The gears operate the lofting. The hydraulic motor makes it possible to rotate the cabin and the boom.
Outrigger
The outrigger gives the truck stability and balance and helps prevent the crane from leaning or tipping. This structure consists of a beam, a leg, and a foot that is made to rest on the ground.
Bucket
In a bucket boom set-up, a man can sit or stand in the bucket to access high areas, a load can go in the bucket or, sometimes both ride in the bucket together.
Accessories
Most Boom Truck cranes come with a wide array of accessories. You are often able to switch out lifting fixtures on the boom like adding on a human hoist.
Boom Truck Specs
The main specs to consider when you are purchasing a Boom Truck are as follows:
Capacity
Capacity is the maximum weight the crane is able to lift. Most have a capacity of between 10 and 60 tons but that weight can change depending on how far it's extended.  You will need to study the load chart of the individual model according to weight and reach.
Boom and Jib Length
The length of the boom and jib is ultra-important to consider when buying a Boom Truck.  The length is the actual reach of the crane in relation to how far away you are able to move the load and…how high you can lift it.
Terrain Capabilities
The terrain you will be working on is a factor to think about.  Will you be on a smooth parking lot or on a rough and rocky surface?  It is imperative to choose a truck that is made for the terrain you will be working on.  Otherwise, you could find yourself stuck out…or worse.
Stability
The stability of the crane is another spec that is vital to consider.  The stability determines if the truck will tip over or tilt.  You will want to purchase a truck that not only meets your needs as far as stability goes but one that does so under whatever conditions you are likely to encounter such as extreme weather, rough surfaces, and types of loads.
MJ TruckNation
At MJ TruckNation, we have a wide assortment of Boom Trucks that are available with a variety of specs.  We are happy to help you find the perfect truck for your individual needs.  We also have on-site financing and a service department as well.  Visit us online, come see us, or give a call at (571) 220-9992.