Book a Box Truck and Open a Mobile Library
Reading on the Go is Turning Pages and a Few Heads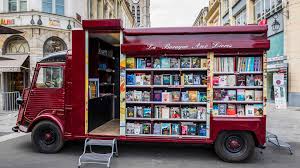 Are you ready for an all-new chapter in your life to unfold?  If you love books and using your imagination, why not combine the two for a plot sure to be a novel success.
With a Box Truck and some great books, you can get your new career on the road with a mobile library.  Here's how to get it all lined out in six simple steps:
What You'll Need:
Books: 

Any library needs books.  Where you get your books will depend on your budget and the theme of your mobile library.  If your books are inexpensive (or free), you can organize a book drive to fill your shelves with donated books.  You can also find lots of great deals for books online, especially if you are buying multiple books by the same author. Look for basement bargain books.

Business Plan:  

How is your mobile library going to operate?  Will you offer your books for loan, to be checked out by a system, or will they be available for keeps?  Will your mobile library be high end, or inexpensive?  Some mobile book organizations even offer free books to the needy and function on a not-for-profit basis. The plan is up to you but…you must have one bookmarked or your business will never have a happy ending.

Box Truck:

The biggest expense of your mobile library will be acquiring the box truck that will contain the books.  A used Box Truck is the way to go unless you have the funds to do otherwise.  Be sure the truck you purchase is dependable.  You don't want to get stuck out.  You can fix some shelves in the back and customize a swing side door, or…you can have a professional to the work for you. 

License and Registration: 

Check with your city and county to find out the rules and regulations on having a mobile library.  You'll need to come up with a name, register your name and business, secure any license required, and keep up with your taxes.

Custom Cover: 

What will the theme of your mobile library be?  Will it be geared for children, for adults, or both?  Do you want a fun, romantic, rustic, or studious tone?  Or, perhaps you will come up with your own imaginative theme and tone.  Whatever it is you go with, have your truck tailored to fit it.  If you are going rustic, you can rough the truck up by slapping on some rust-colored paint and antiquing it a bit.  For a 70x theme, have a peace sign painted on and spruce it up with some "day glow" colored paint.  You're the author of this project, so make sure your cover tells the story.

Advertise: 

Place some ads online on local sites and on social media groups in your area.  Take out a small ad in the town's newspaper.  Put up some signs about town.  Get the word out verbally.  Once you've got your audience, it's time to deliver the goods.
MJ TruckNation
If you're looking for a great used Box Truck for your mobile library, you're in luck.  At MJ TruckNation, our used Box Trucks are that will help get you on the best-seller list.  Our salespeople are friendly and knowledgeable and we have financing on-site.  Stop on by or give us a call to book a showing at (561) 220-9992.