Get on the Move with a Moving Business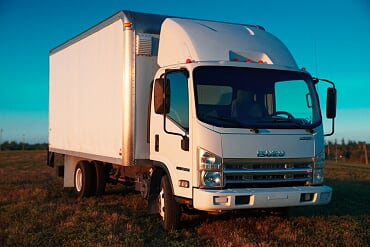 With a little muscle and a good Box Truck, you can start your own Moving Business. It is estimated that over 31 million people will move in 2020 and even more will in the years to come. Moving companies are expected to rack up around $86 billion dollars annually which makes it a larger and more financially beneficial industry than most realize.
About Box Trucks
Box Trucks come in a variety of sizes, typically ranging from 14-24 feet of space in the cargo "box" that is located on the back of the cab. Most Box Trucks come with an overhead roll-up door at the rear to accommodate access to the cargo "box". Often times the truck has a ramp to ease loading and unloading as well.
Hino, Isuzu, and Mitsubishi are some of the top manufacturers of Box Trucks. You can find a myriad of makes and models in your choice of diesel or gasoline fuel options and automatic or standard transmission versions.
No commercial driver's license is required in order to drive a Box Truck. Adding the Box Truck onto your current auto insurance is usually not a problem and isn't outrageously expensive like adding some other Commercial Vehicle coverage can be.
What a Moving Company Does
One of the first things you'll need to do is to choose a name for your moving company. The name should sum up your business' character. If you are wanting a formal, top-end outfit, pick a name that projects that. If you are more casual, a lighthearted or punchy name is perfect.
Register your business name, acquire a tax ID number, and get some accounting software or hire someone to tend to that end. It's a good idea to get insurance and/or bonding to cover yourself and your customers should something go wrong because accidents do happen.
Exactly what your moving company will offer is entirely up to you. You can keep your services very basic, limiting to moving household goods from house to house or between a house and storage building. Or, you can extend your services to include businesses, like moving companies from one location to another. Typically, a moving company works within a specified local area, but some work statewide or even nationwide…for a price.
To give your business a boost, it's a good idea to offer a special service so you have the upper edge in at least one area. Maybe you are willing to move heavy pieces, like pianos. You may advertise that you will pack and unpack for an added fee. Find something that makes your moving company stand out.
You can keep your business a one man show, or hire a helper or a team of workers. If the company flourishes, you may want to expand by purchasing more Box Trucks and acquiring more employees.
Advertising can be done online, by way of social media, in the local newspaper, and by word of mouth through happy customers. Be sure to have a website or at least a Facebook page prospective customers can check out.
MJ TruckNation's Guarantee
A great Box Truck will make or break your moving business. You sure don't want to have to explain to your customer that you (and all their possessions) are broken down. To find great deals on a wide variety of makes and models of new and used Box Trucks, be sure to check out MJ TruckNation. We have onsite financing which gives us the ability to slash prices and helps assure we can get you in a fantastic truck. If we don't have the Box Truck you are looking for, we'll find it for you. That's the MJ TruckNation guarantee. Call today – (561) 220-9992.