What's in Your Bucket Truck?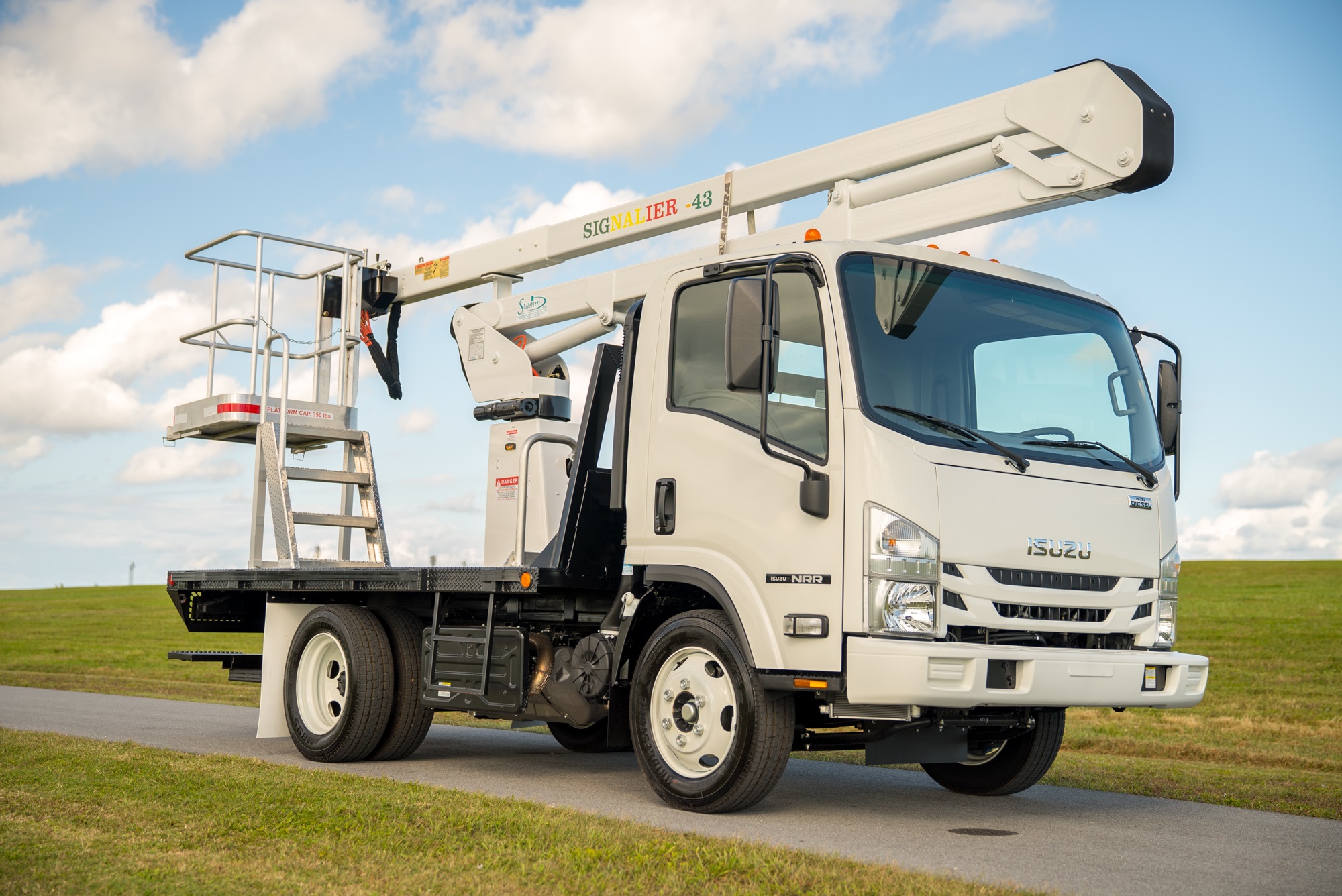 If you have a bucket truck, you know it's what's in it that matters. From the size and power of the truck to the exact height it is able to stretch to, the specs of your Bucket Truck and the bucket within greatly determines the scope of work you can do with it.
What is a Bucket Truck?
A Bucket Truck is basically a Work Truck that has an aerial lift attached. It is specially designed with a bucket attached which can lift a person up to a work platform. Because of its unique ability to allow workers to access great heights, this type of truck is quite popular across many industries.
The core of a Bucket Truck is equipped with a hydraulic pole, also called a boom, that operates the bucket which workers can stand in be lifted up to a destination where they can safely and comfortably perform their duties.
Electricians, utility workers, lighting installation, telecommunication outfits, repair services, and tree trimmers are just a few of the myriad of services that employ the use of a Bucket Truck, either full or part-time.
Manufacturers of Bucket Trucks, such as Isuzu, are constantly raising the bar on their models. Smart infrastructure, efficient fuel conservation, optimized operational technology, improved aerodynamics, and heightened safety are all areas of focus by most of the leading Bucket Truck makers.
Top Six Features That Matter in a Bucket Truck
Just because you have a Bucket Truck doesn't mean it can do any job you may need it for. It's important to analyze the work you will be doing with such a truck before you sink your money into it. If you are finding your current Bucket Truck isn't doing the range of work you need it to do, you may want to consider leveling up, purchasing a new one that will
Here are six features to take into careful consideration when looking for a Bucket Truck:
Top Height
It goes without saying that if the parking lot lights your company needs to retrofit in are 100 feet high but your truck boom only extends to 65 feet, you are not going to be able to do the work without renting a Bucket Truck with a higher boom.
If you are having to skim off job opportunities because your boom doesn't extend high enough, you're losing profit. Why not use some of the profit you'd be otherwise looing to put towards a truck that can get the job done?
Bucket Trucks are typically available in three height capabilities: under 50 feet, 50-69 feet, and 60 feet and over.
Side Reach
Bucket Truck booms come equipped with side reaches that vary in lengths. Side reach becomes vital in situations that don't allow for the truck's boom to be extended directly to the source of the work due to positioning issues.
Many industries, like tree trimming outfits, need a good bit of side reach where others do since there are often obstacles, like trees or buildings that make access to the ideal positioning difficult or impossible.
Knowing your individual requirements and buying a truck to accommodate those needs will stretch your profits and lower your losses.
Transmission
Choosing between an automatic or standard transmission is an important decision. While a standard transmission may give you more power, an automatic one will free you up to focus on operating the truck rather than shifting the gears. You'll want to carefully consider all that the majority of your work detail will include.
Fuel
Do you want to invest in a diesel-fueled Bucket Truck or does a gasoline engine suit your needs? While diesel is appreciated for being economical in many ways, it can be difficult to access in some locations and may cost more per gallon. Gasoline is easy to find, burns cleaner, and is less expensive per gallon but may not power your truck the way you wish for it to. The fuel you choose should be a matter that is well-thought-out.
Tail Swing
Although ideally, the area your work detail is in will be free of people, places, and things that is not always possible. The tail swing of a Bucket Truck is measured by how far the elbow of the articulated boom sticks out in the opposite direction of the actual bucket. When much or all of your work takes place in obstructed areas, you'll want to go with a model that has less of an arc on the tail swing.
Platform Capacity
Does your work require two workers to be in the bucket? Some work does, such as electrical and lighting where heavy lights must be taken off and replaced with equally heavy ones. Or, maybe your work requires the use of extremely heavy tools and equipment. Be sure to know exactly how much weight your platform will need to be capable of lifting and how large it must be as well.
MJ TruckNation
There's a lot to consider when choosing the perfect Bucket Truck. At MJ TruckNation, we are happy to help you. We are experts in Bucket Trucks and with all other Commercial Work Trucks.
With a nice selection of Bucket Trucks to choose from, let us get you behind the wheel of the most optimal Bucket Truck for your individual needs. Call us today and see what we can do for you – (561) 220-9992.