2020 HINO 155 New BOX TRUCK with Liftgate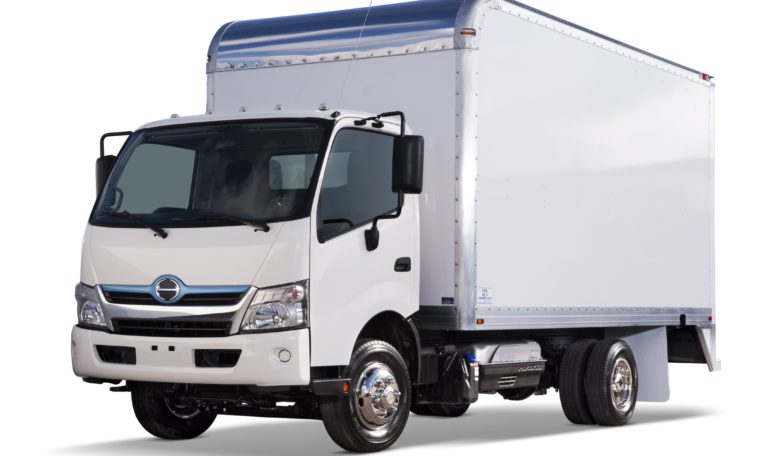 If you are looking for a fantastic new Box Truck, you've come to the right place.  The 2020 Hino 144 Box Truck with Liftgate is perfect for companies like Furniture Moving, Apartment, Home, Office, and Warehouse Moving, Mobile Food and Coffee Services, and so much many other businesses that require a Box Truck.
While the COVID-19 pandemic has been devastating – in the medical and financial realm – it has brought about some stellar deals on wheels, including this fine Hino Box Truck.  Why?  The folks at MJ TruckNation want to help Americans get back on their feet.  Purchasing a commercial vehicle, like this Box Truck, opens new windows of opportunity for individuals to use their trucks to make money and get their budgets back on track.
About the Hino 155 New Box Truck
This good looking workhorse is a brand new 2020 Hino which is known for packing power in their commercial truck lines.  Hino Motors is a Japanese manufacturer of diesel engines and commercial vehicles – like buses, trucks, and more.  They are headquartered in Tokyo and have been international leaders in the industry for decades.  The Hino ATD truck was the 2020 Truck of the Year!
With a 5.0 liter engine, this Box Truck has the perfect amount of power behind it.  It is turbo-charged to maximize its punch and efficiency.  This model is a diesel-powered Box Truck which will allow you to get great fuel mileage.  It has a 33-gallon side-framed fuel tank.  
This Hino Box Truck has a factory stocked single cab, ideal for a single driver or a driver and one passenger.  It has an Aisin A465 6-speed automatic transmission so there is no messing with shifting gears.  It's all done for you.
The gross vehicle weight (GVW) is 14,500.  The Morgan Box is 16 feet in length which will allow for easy maneuvering and parking, yet is roomy enough to carry a nice size load in the enclosed box bed.  It has power-lock doors and windows for your convenience and safety.
One of the most alluring features on this new Box Truck is the Waltco Tuckaway 2,500 Liftgate.  No more struggling with heavy gates!
This beast comes with the notorious Hino 5-year warranty.
Let's Talk Price
You're absolutely going to be floored with the rock-bottom price on this Hino Box Truck.  $52,730 takes this brand new 2020 Hino.  If you don't happen to have that kind of cash on you, no problem.  How does $5000 down and $1359 a month payments (with approved credit) sound?
MJ TruckNation is dedicated to putting you in a new Box Truck that can help you survive and thrive in the years to come, no matter what the future holds.  Give us a call today – (561) 220-9992.