2020 Isuzu NPR-XD Diesel Crew Cab w/14-Ft Aluminum Dump Truck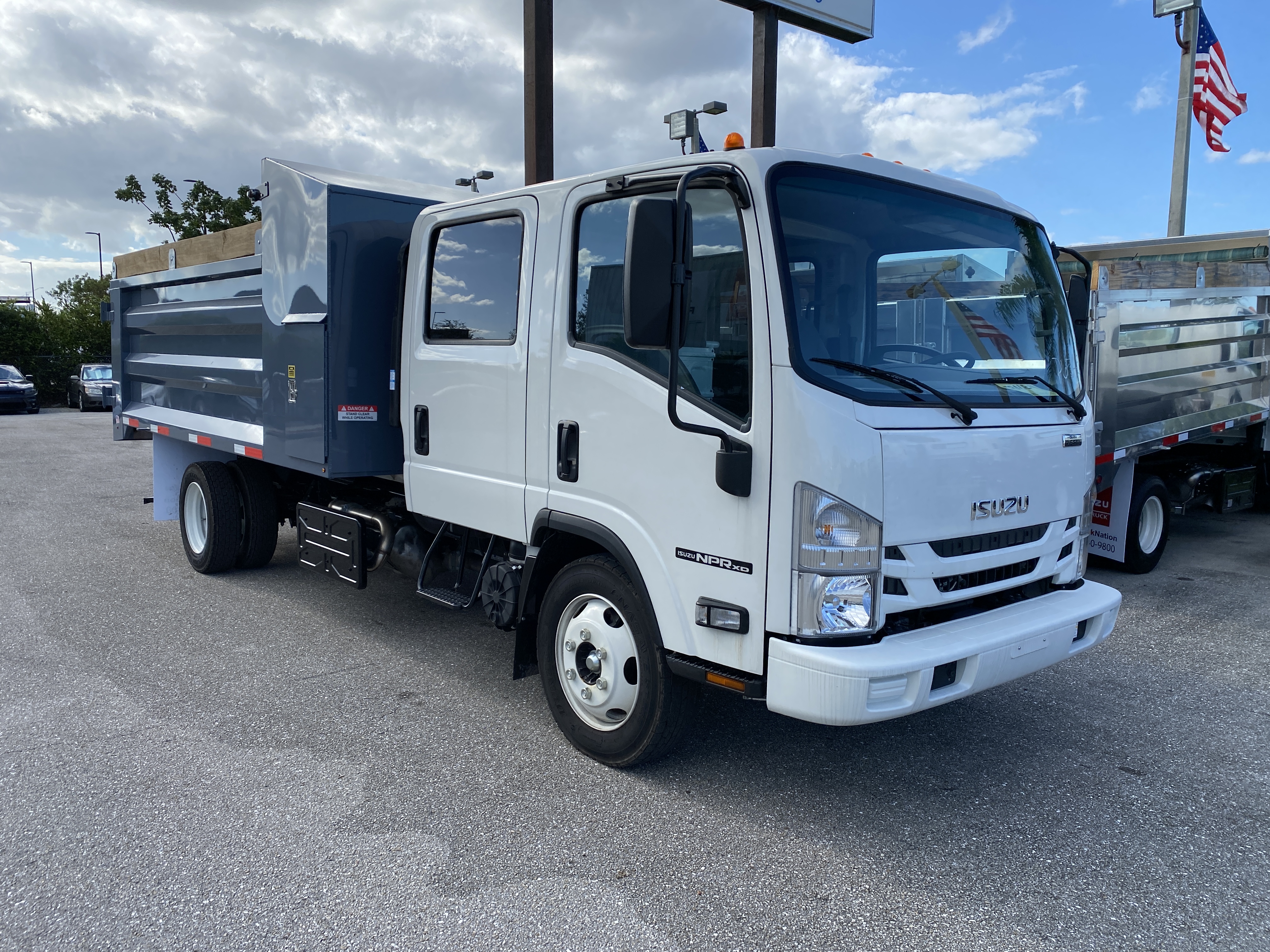 Once in a lifetime, a deal comes along that you just know you have to grab and run with. Introducing the 2020 Isuzu NPR-XD Diesel Crew Cab with 14-Foot Aluminum Dump Truck. Sporting a mere 271 miles on it, this spectacular truck is a workhorse. And it's all yours for just $58,980 (plus tax, tag, and title)!
With comfortable Crew Cab seating for up to 7 passengers, the Isuzu NPR-XD Diesel Crew Cab features a 5.2L Turbocharged Diesel Engine for a powerful ride. It has a 14-foot Square Aluminum Dump, perfect for well-rounded scopes of work. This Isuzu Crew Cab weighs in at 16,000 pounds with a 22,000-pound GCWR, ideal for ease in handling driving over all types of terrains.
The fact that his Work Truck Isuzu comes with an automatic transmission assures you won't have to spend your time haggling with shifting gears. The ride is smooth sailing, just as it should be.
This Isuzu Diesel Truck also has a Diamond Plate Tool Box so you can store your tools and equipment securely and conveniently.
Who Needs a Dump Truck?
Dump Trucks are used for a multitude of purposes. From hauling gravel and dirt to toting trash and delivering stone and rocks, Dump Trucks are unique because they have the capability to transport, tilt, and dump large, heavy loads. If your service business requires dumping, chances are you need a Dump Truck.
About Isuzu
Isuzu has been a trusted name for decades. Established in the early 1900s, the Japanese-based manufacturer now has branches all over the world including the United States. Through their years in business, Isuzu has established an impeccable reputation for themselves.
Isuzu Trucks are appreciated for building dependable, powerful work vehicles that won't break the bank or your budget. Isuzu is also focused on making sure drivers and their passengers ride in comfort and style.
With a super-low mileage of only 271, the 2020 Isuzu NPR-XD Diesel Crew Cab with 14-Foot Aluminum Dump Truck is priced to sell at just $58,980. Now, that's a steal!
MJ TruckNation…Going the Extra Mile for You
At MJ TruckNation, we have on-site financing so we are able to get you in a vehicle when others can't. Stop on by the South Florida dealership and check-out this beauty in-person or get more information here. Rest assured, this deal won't last long!
If you are not in the South Florida area, no worries. MJ TruckNation delivers nationwide. Call today – (561) 220-9992.