Make Your Day: The 2020 Kenworth T880 Day Cab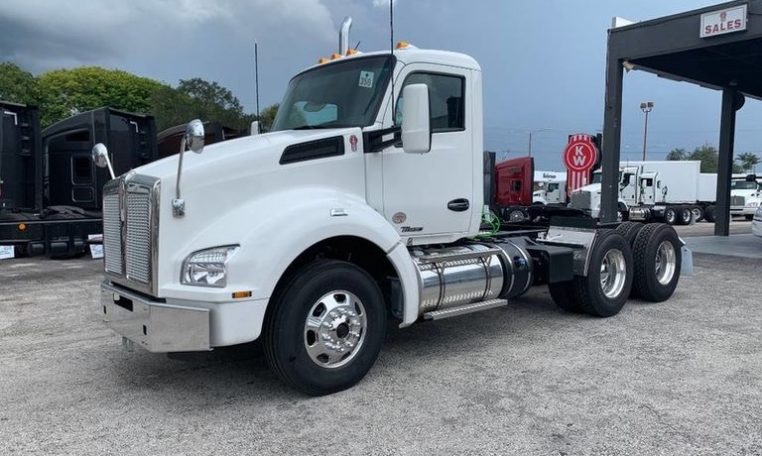 For those that don't require a sleeper cab, Day Cab Trucks are often a cost-effective solution to a higher-priced truck. Day Cabs are extremely versatile, accommodating the needs of thousands of truckers who drive local or choose not to sleep in their trucks. .
What is a Day Cab?
Day Cab Trucks are trucks without a sleeper cabin in the back. Instead of sleeping quarters, a single compartment is contained over the engine portion of the truck.
About the Kenworth T880 Day Cab
This brand new 2020 Kenworth T880 Day Cab is the perfect truck for anyone who needs a powerful beast of a truck without a sleeper cab. The durable MX-13 (MX-13 455@1600 1650@900) engine gets the job done with a VSL Expiration Distance of N717 0. There are only 50 miles on this Kenworth!
Because this truck is standard length, you'll be able to easily get in and out of tight spots but will also be able to have ample room. The LRSL Speed Limit is N718 155 while the Max Pedal Speed is N711 64. Engine Idle Speed (N052) is NO52 650.
Stopping is never an issue. This Day Cab sports a 2017 engine break. The Delay Time is N874 0. It boasts a N0.15 NO to enable retarder during manual operation.
Talk about a smooth ride! You'll have Air Ride Suspension. The steering wheel is an efficient and comfortable 18".
The fact that this Day Cab is a Kenmore is a huge plus. Kenmore is a leader in the trucking industry. Turn this Day Cab into anything you want it to be – a Heavy Hauler, Tanker, Mixer, Logging Truck, Refuse Truck…you name it, you've got it when you have this sweet ride.
It's not often that you find a truck like this workhorse. It's got it all. You won't believe the fuel economy you'll get and it also comes with an engine monitoring protection and Paccar MX engine parameter with PT Optimization to maximize fuel mileage. Relax and enjoy the ride with the MX Retarder State Cruise Control feature.
Packed with plenty of bells and whistles like great speakers and an upgraded interior. You've got to see this Day Cab to fully appreciate it. Your money goes a lot further when you cut out the things you don't need…like a sleeper. It just goes to prove that less is more.
MJ TruckNation
At MJ TruckNation, we are here to help you get into this brand new 2020 Kenworth T880 Day Cab. This could be the best move forward you have ever made. Let us get you behind the wheel.
With on-site financing, we are able to work miracles to get you a rock-bottom price. You'll find our team is helpful and friendly. We go the extra mile to make sure our customers have the ultimate experience at our dealership.
If you don't live in the South Florida area, no worries. We deliver nationwide!
Give us a call today at (561) 220- 9992.