Cool Summer Start-Up: IN the Box (Truck) Ice Cream Biz
Bring Your Ice Cream Dream to Life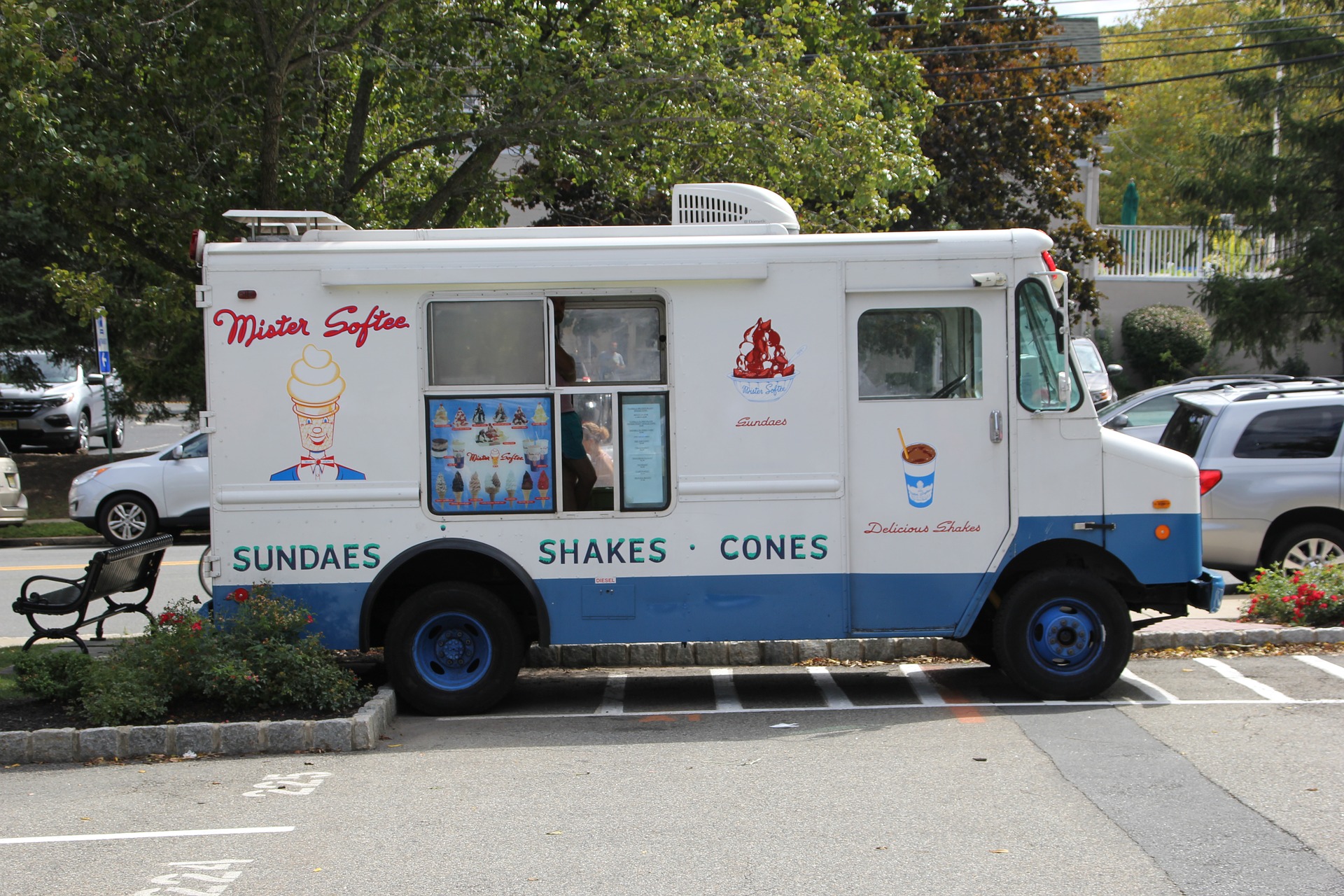 Seriously…what could be cooler than starting your own mobile ice cream business this summer?  Find out how to do it and hot tips to ensure your success.
Why Start a Mobile Ice Cream Business?
People can't get enough of the mouth-watering creamy goodness, especially when the weather's warm.  According to recent statistics, 291.09 million individuals in the United States enjoyed ice cream last year alone.  That's a lot of potential customers!
It is estimated that ice cream vendors have an average of $200 to $300 dripping in every day during the summer months.  Gross monthly averages in the peak months are around $5000 with $2500 or better being the net average after supplies, employees, and other expenses are accounted for.
Why Go Mobile?
A better question is…why NOT go mobile?  With a minimal investment via a Box Truck, you can bypass waiting for customers to come to you and go straight to them.  Mobile ice cream vendors have been known to drive kid-ridden neighborhoods, set up at festivals, parks, and various events, and to make their way wherever else ice cream lovers congregate. 
Steps to Starting a Box Truck Ice Cream Business:
Starting up a mobile ice cream business is a piece of cake compared to the time and money you need to sink into most other types of businesses. Here's the scoop:
Money matters. 

You'll need a small chunk of money to get rolling.  Add up an estimated start-up amount and count your savings.  If it falls short, talk to the bank or personal investors or…sell your firstborn (just kidding!).  Do what you need to do to pull your financial resources together to make your ice cream dream a reality.

Think inside the box.

  Being with a Box Truck.  It doesn't have to be the newest or most expensive truck on the lot.  But, it must be dependable and should be economical on fuel.  Once your business booms, you can branch out and get another truck…and another, depending on how many employees you wish to have on your payroll.

Paint the truck.

  Remember the ice cream trucks of your childhood?  The clowns on the side or pictures of ice cream plastered all over made your heart melt in anticipation of the goodies the truck held inside.  Reinvent those days and don't skimp on making your truck memorable.  Oh…and don't forget the music to blast as you cruise the neighborhoods.

Make a plan.

  You'll need to decide what type of ice cream you're going to sell.  Will you have a twist, like all-natural ice cream or homemade creamery?  Set yourself apart by offering something unique in the mix.

Access resources.

  Research what you will need in the way of equipment such as cone dispensers, freezers, and generators to handle the freezers.  Price the equipment and purchase with plenty of time prior to your start-up date so you can have the equipment installed and so you can make sure everything works properly.

Product.

  Of course, you'll need to determine where you'll purchase your ice cream or where you'll get the ingredients for making your own.  Set up a delivery or make arrangements to pick the goods up just a few days before launch.

Route.

  Determine where you're going to sell your ice cream.  The route or spot may vary but you should have a good idea of where you intend to be for the first full week at least.

License.

  Check with your local and state authorities to see what licenses you will need and secure it.  You may need health certification, a vendor's license, and other legal documentation.

Insurance.

  You'll need commercial insurance for your mobile ice cream business.  Do your homework and compare prices so you get the most coverage for your money.

Advertise.

  Take out an ad in the local paper to announce your opening.  Advertise in local online groups, post signs, and pass out flyers.  Your debut is only a big deal if you make it one so go big…have a BOGO sale or free giveaways.  Rock your day!

Just.

..do it!  Without further ado…chase your dream. 
MJ TruckNation
When it comes to bringing your ice cream truck dreams to life, at MJ TruckNation, we've got your back.  We have a wide variety of Box Trucks in top manufacturer names, like Isuzu, Fuso, and Hino.  We will do all we can to help you choose the perfect truck for your mobile business and if we don't have it, we'll find it or build it for you.
Don't live in the South Florida area?  No problem.  We deliver!  Give us a call today (561) 220-9992.