Give Up the Daily Grind for a Grind of Another Kind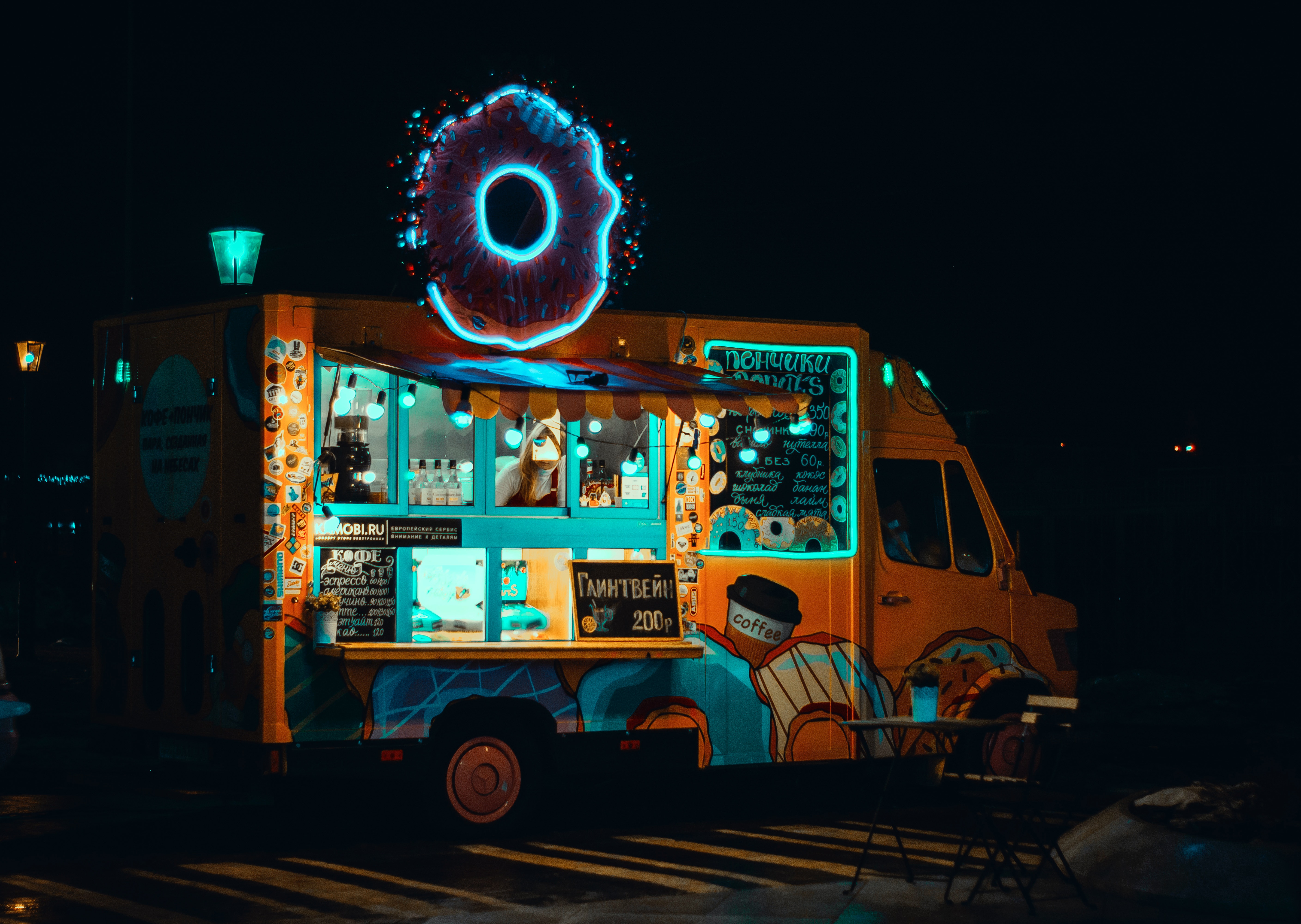 If you're tired of the daily grind, day in and day out, maybe it's time to wake up and smell the coffee…or, better yet, SELL the coffee. At least half of all mobile coffee shop owners make around $150,000 per year and drink in plenty of other perks too. Find out what you need to do to get your coffee-in-a Box Truck business brewing.
Make Sure a Mobile Coffee Truck is Your Cup of Tea
Owning and operating a mobile coffee shop isn't for everyone. You may love a good cup of joe but despise getting up early. Mobile coffee baristas typically start their days at 3 am so…proceed with caution. You must be willing to do all it takes to make your business a success.
Perks to Owning a Coffee Truck Business
Within reason, you can set your own hours when you own a mobile java business. You will, however, want to take into account that coffee is a favorite morning drink. If you can afford the luxury of doing so, vacation time can be taken anytime. One of the biggest perks, of course, is that your office will always smell like heaven in a cup…a to-go cup, that is.
Get Your Grounds Off the Ground
One of the first things you'll need to do is to turn your idea into a plan. What kind of a coffee truck do you want to have? Will you sell a specific brand of coffee? Who is your target customer? What mood are you setting with your mobile coffee shop? All these things will help determine your brand identity which is ultra-important to any business owner.
Branding
"It's important to set yourself apart from the others," Garrett Ezman explains. "My mobile coffee truck highlights upscale gourmet blends so everything centers around that central idea from the graphics on my truck to the location I park it in."
Some of the possible mobile java niches include:
Gourmet blends

Organic products

Fairtrade beans

Unusual twists
Location
Once you've established your identity plan, you'll want to consider what location you want to sell in or, determine if you intend to be on the move and if so…where. Think about where your target customer frequents and what will attract them to your truck.
Investment
There will be some initial and ongoing expenses to your mobile coffee business. You will need a Box Truck or similar vehicle to sell your joe from. If you already have one, you're a sip ahead. If not, you'll want to get one. MJ TruckNation is one of the best dealerships in the nation.
Coffee making equipment will be required. The cost will be determined by the size and quality of the machine or machines and if you opt to have specialty equipment such as a grinder and expresso and cappuccino makers.
Your truck will need to be upfitted with power unless you have a spot you'll be able to plug in. Running water is typically required as well. Your truck will also need to be modeled to make and serve coffee which means a window must exist or be put in. The outside should be painted to advertise your wares. Plumbing is another must-have.
Coffee, filters, disposable cups, stirrers, straws, napkins, flavorings, cream, half-in-half, and sweeteners are among the ongoing supplies you will need.
Legalities
Since the license requirements and permits differ from place to place, check with you local municipality to learn what you will need to operate your business. For sure you'll have to have insurance, a health permit and food handler's permit, a business license and vehicle license, and a special event or temporary permit.
This list may seem long and expensive but in reality, a mobile coffee shop is one of the best, most affordable and profitable businesses brewing.
MJ TruckNation
At MJ TruckNation, we are here to serve you more than coffee (although we're happy to offer you a cup as well). With our helpful team members and in-house financing, we will do all we can to get you behind the wheel of a Box Truck so you can get your mobile coffee shop rolling. Give us a call today – (561) 840-9800.