It's Not Too Early to Deck the Hauls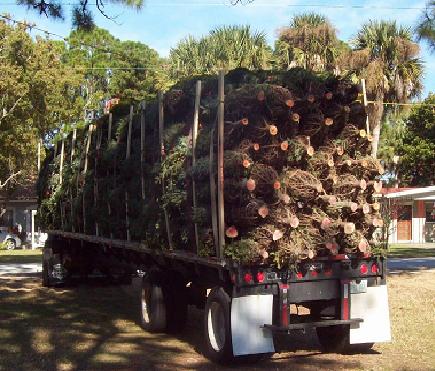 Oh, Christmas tree. Oh, Christmas tree. Christmas is right around the bend. According to the National Christmas Tree Association, around 350 million Christmas trees are currently being farmed in the US alone. About 25 to 30 million will be sold this year.
If you have a Flatbed Truck or are willing to get one, you can put some jingle in your pockets delivering Christmas trees and it's not too soon to be working towards making the big bucks.
Why a Flatbed Truck?
Flatbed Trucks are perfect for hauling Christmas trees because they accommodate large, irregular-size loads. A Flatbed typically runs 48' long but can be up to 53'. The bed is open but you can have rails on it…or not.
Another option for hauling Christmas trees in a Flatbed Truck is a Box Truck, especially a refrigerated one. This type of truck is good for transporting to locations that are warmer or where the weather is snowy or rainy. But, since a Box Truck is confined, you have to make sure they fit inside. Using a Flatbed Truck gives more allowance for the trees to hang over the edge.
Where to Find Hauling Jobs
Hauling jobs, in general, are in big demand, especially when it comes to transporting holiday loads. There are several options you'll have when looking for Christmas tree hauling jobs including:
Chain Stores
Stores that sell Christmas trees, like Lowes and Home Depot, hire independent drivers to bring loads to them. Usually, you will go to the location where the trees are farmed (Oregon, Washington, etc.) to pick the trees up and then deliver them to a designated store or multiple stores.
Private Lots
Of the 25 to 30 million Christmas trees that will be sold this year, many will come from private lots. The individuals who run the lots typically depend on contracting the transportation of the trees from independent drivers. By conducting a search online, you can get contact information so you can do some wheeling and dealing.
Make a List and Check it Twice
When planning your Christmas tree hauling gig, you'll want to make sure you end up with a pocketful of profits, not coal. Do the math. Figure in your time and expenses. Don't go by last year's figures as prices of fuel have gone up tremendously. Once you have your final price, don't hesitate to throw in an extra perk in order to stand out from the other services. Offer a discount or throw in something for free. Offer to set the trees up upon delivery. Do something that makes you shine and you'll no doubt be the one they choose.
At the dock, chances are that the trees will be loaded onto your truck for you but that's not always a given. Contact the dock or farm ahead of time to be sure. If you have to do the loading yourself, be certain to tack that onto your bill and by all means, bring help.
Don't forget to bring a good, thick tarp to cover the trees. If you don't, they'll be subject to the weather, like rain and snow, and they may suffer damage in the wind as well.
Being prepared will help ensure your Christmas tree transporting will be a jolly job and not a bust.
MJ TruckNation
At MJ TruckNation, we are here to serve you. We can't wait to get you behind the wheel of a new or used Flatbed Truck so you can make some Christmas cash. If we don't have the truck you are looking for, we'll find one (or make one) for you. And, if you don't live in the South Florida area where we are located, we'll bring your truck to you. With on-site financing and courteous and helpful team members, you are going to love the way we do business. Give us a call today – (561) 840-9800.