Find Your Fit: End, Belly, and Side Dump Landscaping Trucks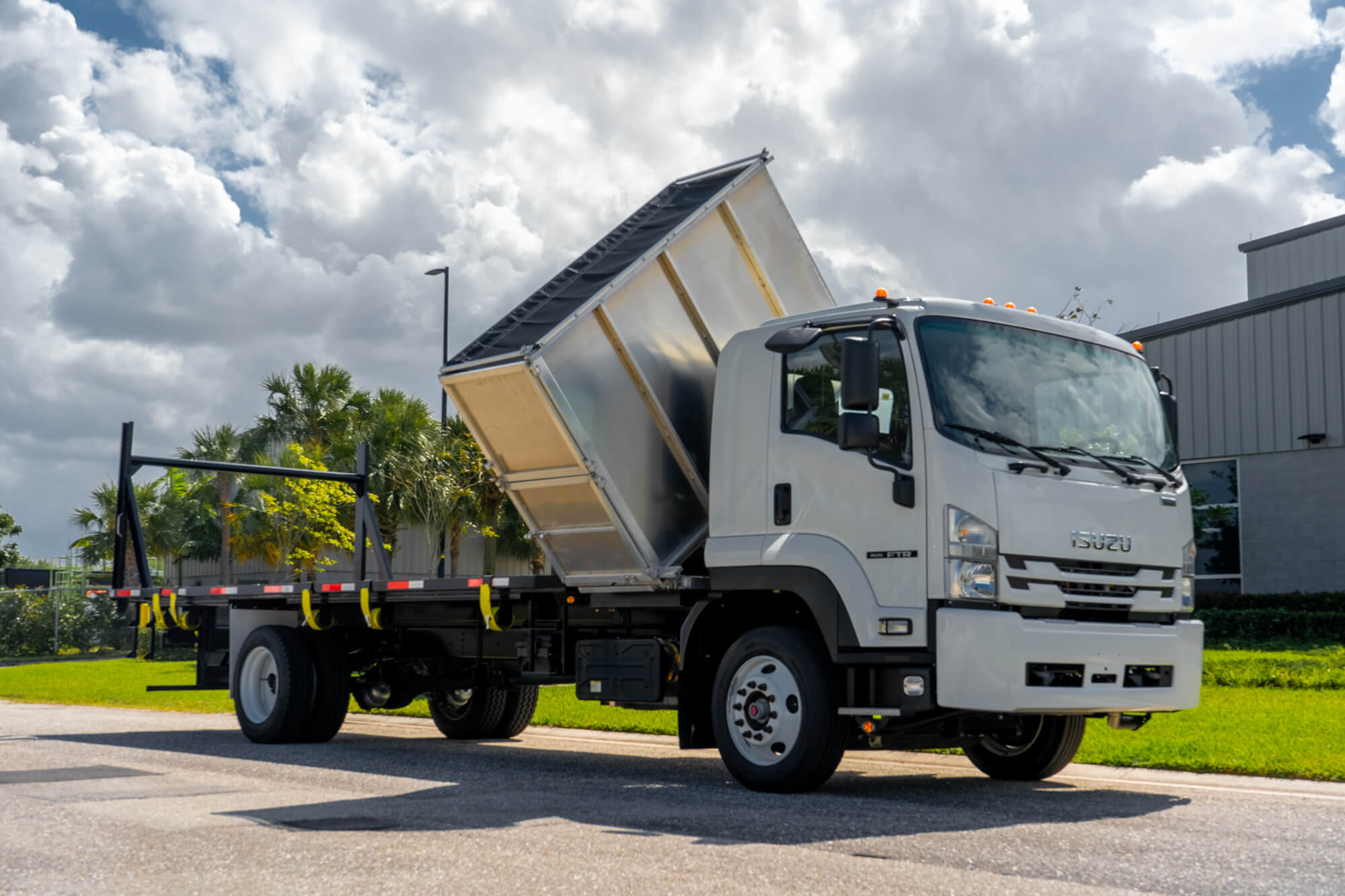 A Landscaping Truck with a Side Dump, Belly Dump, or End Dump Trailer is the ideal addition to any landscaping, road construction, excavation, site prep, or demolition company. The trailer is fully equipped to carry your material to and/or from the job and makes dumping a breeze if you choose the one that's the best fit for your individual needs.
Side Dump
A Side Dump Landscaping Truck is operated by hydraulic rams that tilt to the right or the left in order to load cargo from the trailer. Air ride suspension is not required to be deflated before the dumping is done so they speed up the unloading process immensely.
Side Dumps are excellent for dumping fine materials and semi-liquids and are commonly used in road construction and building, pit mining, and excavation.
There are tons of benefits Side Dump Trailer Landscaping Trucks have to offer. They are the most stable of all types of Dump Trailers. They are able to trek and dump on uneven ground with ease and have very few limitations.
One disadvantage that Side Dumps have is that they are usually smaller in their cubic capacity and therefore have limited maneuverability when it comes to unloading in areas that are tight squeezes. Side Dumps work best where they are configured specifically for such as in the Midwest and West Coast where they are quite popular.
Belly Dump
Belly Dump Trailers dump from the belly of the trailer which is absolutely perfect is certain instances. They are a godsend for those who lay asphalt and transport various materials. The gate control opening allows for the ability to precisely regulate material flow.
On the downside, Belly Dumps are equipped to haul liquid that might leak out of the bottom or fine material that might sift through the bottom gates.
End Dump
An End Dump Trailer works by lifting its dump box into the air so that the material is dumped from the back rear of the trailer. Typically, End Dump Trailers are equipped with higher sides than Belly Dumps and Side Dumps have.
One of the most noteworthy advantages of an End Dump is that they are able to handle larger loads than other types. They can also accommodate rougher materials. For those who work in road and building construction, agricultural landscape, and aggregate stockpiling, End Dumps are lifesavers. They are perfect for confined spaces.
End Dumps can become unstable and when they do, they can be extremely dangerous. They require more driving skill to operate than Side Dumps do.
Other Dump Details
To further help customize a Landscaping Flatbed Truck, there are different sizes to choose from. You'll find the typical sizes of 26 to 40 feet but can also opt for a shorter trailer of 17 to 18 feet. If your loads tend to be heavier with the need for more room, Frameless Dumps are available, ranging from 36 to 40 feet. Framed Dumps average 26 to 34 feet. The bodies of Dumps typically have lengths of 17-18 feet which makes them on the short side so they maneuver easily through tight spaces.
MJ TruckNation
Choosing a Flatbed Truck can be confusing. All the options are nice to have available, but they can be overwhelming at the same time. If you are looking for a Landscaping Flatbed Truck, we can help. Our team at MJ TruckNation is very knowledgeable and will work with you to find the truck that's the best fit for your individual needs. We have a wide selection of Landscaping Trucks so come in or give us a call at (561) 220-9992.