Make Money Moving Portable Sheds
Put Your Flatbed Truck to Work for You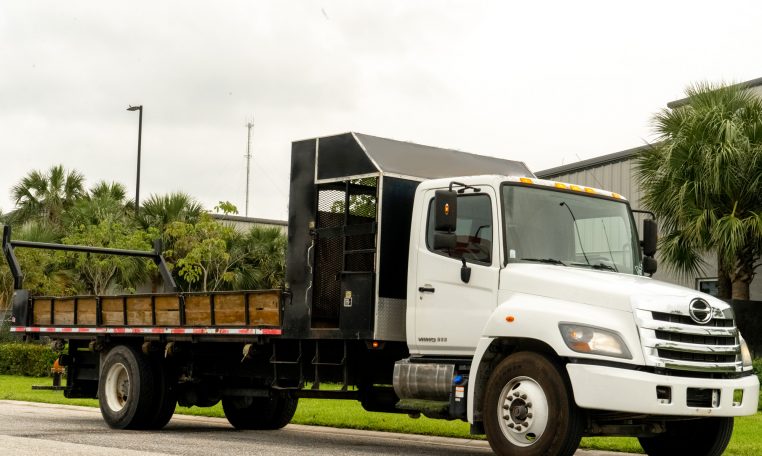 Drive down any highway, especially in rural areas, and you'll see lot after lot full of portable buildings for sale or rent. Selling portable sheds, garages, offices, and even small homes is a huge, profitable, and ever-growing business. Once a shed is sold or rented, it has to get to its destination, usually on top of a Flatbed Truck. Drivers are cleaning up on the trend too.
Get Moving with a Flatbed Truck
Independent shed movers make good money every time they transport a shed. The going rate is $500 for a typical local transport. Generally, there is nothing else required of the driver except to deliver it to the destination. From there, a crew generally awaits that tends to take over from there to put wheels on it and drag it to its location in the yard with a Skid Loaders, then leveling it on bricks. Sometimes, drivers offer extended services such as dragging and leveling. An extra fee is always included if so.
In order to start a Shed Delivery Business, you'll need a Flatbed Truck. Unless you're able to afford a new one, a used Flatbed Truck is a great way to go. If you can't buy it outright, you can always pick up payments at a dealership, like MJ TruckNation that has on-site financing.
There are many brands of Flatbed Trucks. Hino is one of the best brands – a worldwide leader in workhorse commercial vehicles. Choose between automatic or standard transmission and opt for gasoline or diesel fuel.
With a dependable Flatbed, all you'll need is a few supplies, like straps to hold the shed on the truck bed. Grab some insurance. You may want to check into getting bonded too. Check with the city and county you'll be working in to find out any rules and regulations, like licensing you may need. Depending on the weight, you may need to attain a Commercial Driver's License if you don't already have one.
You can advertise online, in the paper, and by putting up signs. Another good way to get business is to go to the individual dealership lots and speak with the owner or manager. Let them know what experience you have and your rates. Chances are they may already have a driver or several drivers, but if you offer to meet or beat their rates, you're likely to get work.
MJ TruckNation
If you are in the market for a Flatbed Truck, stop in and see what MJ TruckNation has to offer. Or, visit us online. Let us help you get in a truck that fits your budget and your needs. Give us a call now – (561) 220-9992.