Medium-Duty Commercial Spray Trucks
Stomp Out Bugs for Big Bucks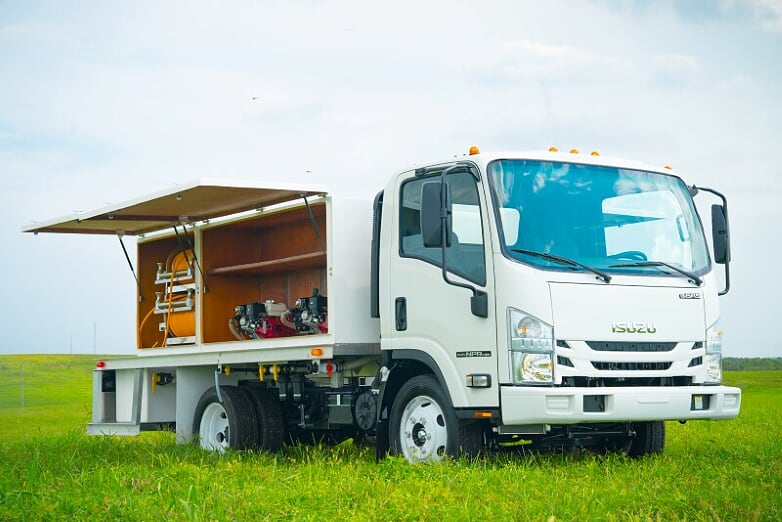 There are swarms of career options available when you invest in a Commercial Spray Truck.  One of the most lucrative fields to go into is the pesticide industry.  To cover the most area and to maximize your capability and your profit, a Medium-Duty Commercial Stray Truck is the ultimate.
What is a Medium-Duty Commercial Spray Truck?
A Medium-Duty Commercial Spray Truck stores liquids in a tank that is located in the back of the truck.  The liquids can be sprayed to accomplish a task such as fertilizing fields in agriculture, disbursing weed killer onto lawns, exterminating insects in large areas, or a number of other things.  Sprayers are available in all shapes and sizes.  When a sprayer is on a truck though, it is intended to be employed for extensive coverage.  The sprayer can be on a Boom Truck, or can be in the bed of a truck, such as a Commercial Spray Truck.
Pest Control Spray Trucks
Pest control trucks enable drivers to mix water with pesticides or fertilizers on the job site.  Typically, there are hoses that attach and a convenient place on the truck bed for them to be stored and rolled up. You can also customize features, such as adding an extra tank, like a smaller one, or extending the length of the hoses. 
Most Commercial Spray Trucks are considered medium-duty trucks and have a body that is about 13.5 feet.  They can be found with standard or automatic transmissions and have fuel options of gasoline or diesel. 
Various Types of Pest Control
Not all pest control products fit all, so there are separate fields in the extermination industry.  Some companies focus on rodents while others may spray to keep the mosquito population down.  The individual field of pest control will determine factors such as where the hose will need to reach, how far and at what pressure the liquid will need to spray, and what size area will be serviced.  The type of liquid used will also relate to the type of critter or insect that will be controlled.
The MJ TruckNation Difference
If you are considering starting a pest control business, you'll definitely need a Spray Truck.  You'll have options, like what type of truck you want and how or if you wish to customize it.  You will also want to decide if you want to invest in a new or a used Commercial Spray Truck. 
At MJ TruckNation, we are available to help you find the perfect Medium-Duty Commercial Spray Truck.  We carry Commercial Spray Trucks on our dealership lot, but if you don't find what you are looking for there, we will either make one or find one for you.  If financing is an issue, no problem.  We have our own finance department on-site.  We are committed to exterminating any problems so we can find solutions and get you in a Spray Truck today.   Give us a call at (561) 220-9992.