Check Out the New Isuzu NPR-HD Stake Flatbed Truck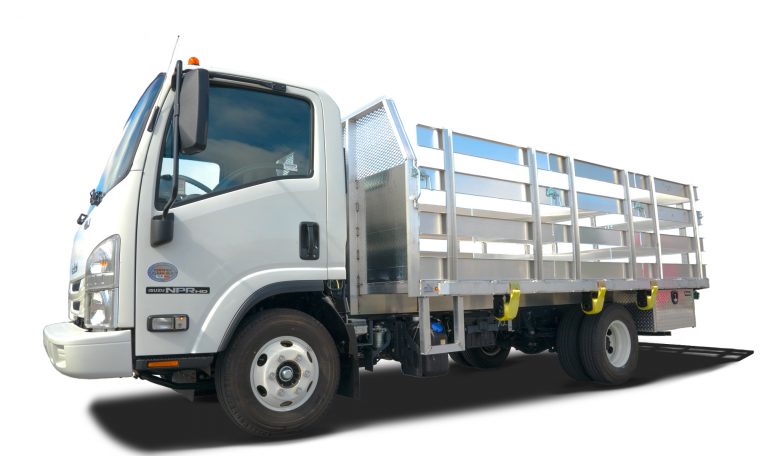 This brand new Isuzu NPR-HD Stake Flatbed Truck is the ideal work vehicle for keeping irregular and heavy loads safely contained – perfect for those in landscaping, construction, agricultural, and automotive hauling industries.
The Izusu Name
Izusu is a leading commercial vehicle manufacturer who is a trusted name in the industry. Headquartered in Tokyo, Japan with factories worldwide, including the United States. Izusu has been serving the needs of workers for decades. The company prides itself on providing quality vehicles that pack plenty of power while not sacrificing comfort. They are also known for catering to comfort.
The N-Series is a very popular line of work vehicles in the Isuzu line. The NPR-HD is one of the best in the series.
Isuzu Stake Flatbed

Details
This workhorse sports a 6.0-liter V8 engine. It is powerful enough to get the job done with ease but has great fuel-economy features too. The transmission is automatic, so you'll never have to hassle with shifting gears.
It's 14 feet in length which is a near-ideal length for transporting most anything. Load your supplies and equipment and have room left over. The slats are super simple to put in and take out so you'll have a combination Flatbed and Stake Flatbed. You can't top that!
This Isuzu weighs in at 14,500 pounds which is a medium-weight for a work truck of this type. It's definitely hefty enough for typical duties of a landscape, construction, automotive, or agriculture work truck. You won't even need a CDL to operate it.
The truck is a roomy single cab, just right for yourself and a helper. It is ultra-comfortable and well-built, inside and out. Because this Stake Flatbed is new, it will come with an Isuzu warranty which his second to none.
The price is one of the most attractive features on this new Isuzu NPR-HD Stake Flatbed Truck. For only $5000 down and $819 per month (with approved credit), this fine powerhouse can be yours. At MJ TruckNation, we are proud to say we have a financing department on the lot so we are able to work with you and your budget beyond what most other truck dealerships can.
The MJ TruckNation Promise
If you would like to own this new Isuzu Stake Flatbed Truck, come on in and see the good folks at MJ TruckNation. We not only have this fine commercial truck, we have tons of others too.
At MJ TruckNation, we want to see you in a new truck as badly as you want to be in one. We will work relentlessly to put you in the perfect vehicle and if we don't have it on our lot, we'll either make one for you or find one. That's our guarantee. Give us a call at (561) 220-9992.