Five Most Common Uses for a Flatbed Truck
Most Common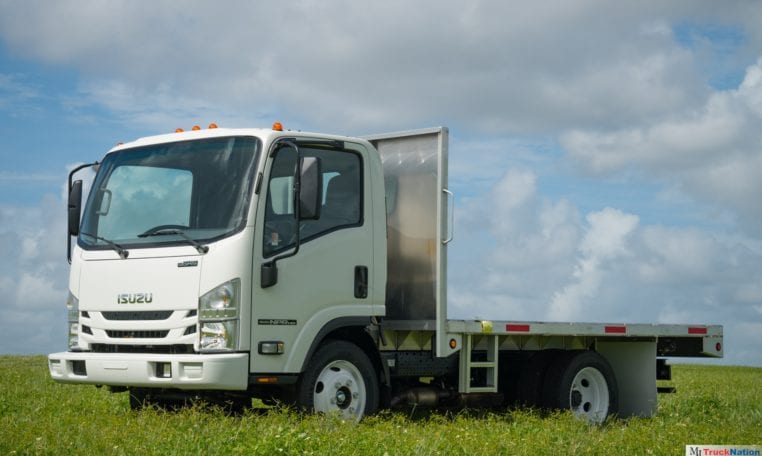 Uses for a Flatbed
Flatbeds are one of the most useful of all commercial work vehicles. The fact that their beds can carry oversized, irregular loads make for high demand. If you have a Flatbed Truck or are considering purchasing one, some of the many uses you can put it to include:
Construction Material Hauling
Construction material comes in all shapes and sizes. Much of it requires a flat surface to be laid upon but reaches far beyond what a traditional truck bed or Box Truck bed allows. Flatbed Trucks are ideal for transporting sheets of plywood and solid wood, drywall, and even the equipment that's used on the jobsite.
Building and Excavation Equipment Transporting
Flatbeds can haul heavy loads. Backhoes, Cement Mixers, Bobcats, Cranes, and other digging and building equipment can fit on the bed for hauling. Many construction, excavation, and remodeling companies outsource transportation for such items and hire the services as needed.
Transporting Tires
Transporting tires to a location where they will be sold is a job fit for a Flatbed Truck. When tires expire, they must be baled and hauled off for proper disposal. A Flatbed is ideal for conducting both of those jobs.
Heavy Equipment
Many companies need to haul equipment that simply won't fit in any other type of vehicle. The miliary and oil and gas outfitters are examples of such companies. Some own their own Flatbeds, but others rely on trucks and truckers that are for hire to take their wares across town or across the nation.
Landscaping Material Moving
It takes a lot of supplies to create and maintain lawns and landscapes. From heavy equipment like lawnmowers to bags of sod and trees. You can count on services from a Flatbed to successfully haul such items. Some Flatbeds are outfitted with railings and such that are specially designed for landscaping and lawn services purposes.
Working Your Flatbed
If you have access to a Flatbed Truck, you're in business. Spread the word that you are open to hauling and you'll no doubt have work lined up.
MJ Truck Nation
If you are in the market for a new or used Flatbed or want to upgrade the one you already have, be sure to see the good folks at MJ Truck Nation. We have a wide selection of Flatbeds in names like Fuso, Hino, and Isuzu. We also have on-site financing and in-house parts and repair. Give us a call today and see what we can do for you – 561-840-9800.