Hino Tow Trucks: Built for Power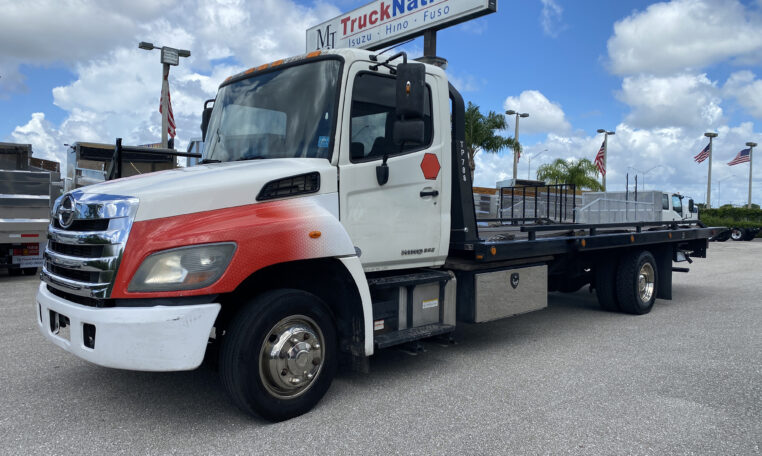 If you're going to be towing a vehicle (or lots of them), you need a Tow Truck that's powerful. Meet the Hino Tow Truck! It's built for power and built to last.
About Hino
Hino Motors, Ltd. is a Japanese diesel engine commercial vehicle manufacturer that supplies superb commercial work vehicles worldwide. Established in 1942, the company is a subsidiary of Toyota.
The Hino Advantage
Hino is on a mission to provide commercial work vehicles, like Hino Tow Trucks, that are powerful and reliable but also affordable to purchase and economical to drive. Hino has been a leader in medium-duty commercial work trucks for decades.
In 2020, Hino introduced the L-series which replaced the 238 through 338 conventional line-ups. New safety and comfort features were among the improvements. The Gross Vehicle Weight Rating ranges from 23,000 to 33,000 pounds.
Still, many prefer to shop from the used selection of Hino Tow Trucks. Because they are built to last, going with an older model isn't a problem. The Hino 268 has earned the prestigious reputation of having one of the lowest operational costs in its class with excellent fuel efficiency and minimal upkeep. You can find it in a 26-foot straight that can accommodate large towing jobs.
Hino chassis are highly sought after. They have a strong, durable engine that can handle the stress that towing puts on a truck. Configuration presents a multitude of options so mounting specialized equipment is possible and practical. Not only does Hino make great tow trucks but concrete mixers, fire trucks, and suction excavators as well. You really can't go wrong when you turn to Hino. Hino is in business to keep you in business.
Why Buy a Hino Tow Truck?
There are four top reasons to buy a Hino Tow Truck.
Reputation. Hino has been providing the best of the best in medium-duty commercial work trucks for over 30 years. Their engineering technologies are designed to keep your truck running smoothly for years and to maximize your productivity. The trucks get raving reviews for performance, power, and comfort.
Customization. Not all work trucks are built to be customized. Hino is. From cabovers to crews, Tow trucks require special features and the features you need depend upon what exact type of towing you'll be doing with your truck. Hino customization offers the exact specs you need in order to do your job properly.
Cost-Efficiency. Along with an affordable price tag, you'll also get excellent fuel economy. Cost-efficiency is a prime focus of Hino.
Trustworthy. Hino has spent years building trust with its customers. You can rely on the Hino name to bring satisfaction throughout the life of your truck.
Hino Tow Trucks
You may be stuck – trying to figure out if you should buy a new Hino Tow Truck, or a used one. The answer is a personal one. Can you afford a new one? If so, you'll have a brand-new warranty and a truck that will likely last decades.
If a new Hino Tow Truck isn't in your budget, don't worry. There are plenty of great used ones such as the 22-foot 2017 258LP diesel with automatic transmission and Hino J08E-VC engine that packs a powerful punch, perfect for towing.
MJ TruckNation
At MJ TruckNation, we are here to serve you. We want to make your commercial truck shopping experience a pleasant and successful one. We've got new and used Hino Tow Trucks and many other excellent commercial work trucks. If we don't have the truck you want, we'll find it (or make it) for you. Come on in, visit us online, or call one of our helpful team members at – 561-840-9800.