Semi-Truck Toting Joy and the US Capitol Christmas Tree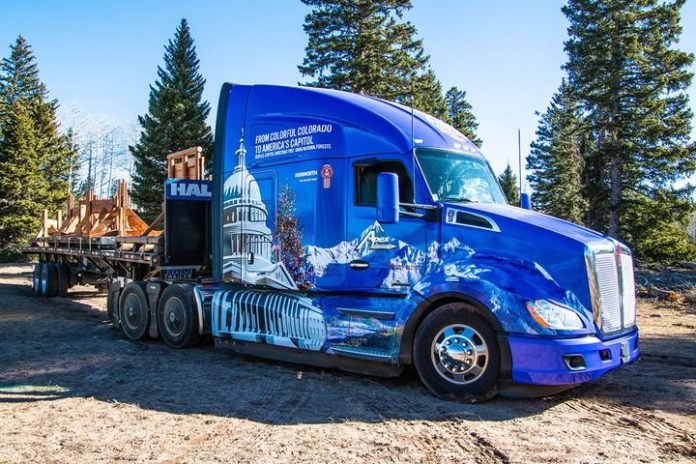 When ten-year-old Ezra Romaine of Redvale, Colorado created a paper "rainbow dinosaur" ornament and sent it to Washington DC to be hung on the US Capitol Christmas tree, he had no idea he would get to see the tree in person.
As luck would have it though, this year's Capitol tree was selected from the Grand Mesa, Uncompahgre, and Gunnison National forests in Colorado. The tree's first stop on its journey to Washington was Norwood, a sleepy ranching town with a population of around 600.
Ezra lives in a tiny neighboring town and his family owns The Divide Restaurant in Norwood. So this year's National Christmas Tree kick-off celebration was closer to home than Ezra ever thought possible because as one of Norwood's residents said, "Nothing ever happens in Norwood." Well, this year it did…just ask Ezra.
Every year, a different US National Forest is chosen to cut the US Capitol Christmas tree. Although COVID-19 brought changes to how the festivities went down this year, some of the traditional tour festivities were still able to take place. Precautionary measures, like social distancing, are being enforced due to the ongoing pandemic.
The semi-truck hauling the National tree was up for drive-by viewing in Norwood on November 10 and will make 9 other stops along the way to its destination at the Whitehouse where it will complete its 2000 mile trek on Friday, December 20.
A decked-out Kenworth T680 was the chosen truck to haul the National tree. It is operated by the Colorado-based Apex Transportation. This trip marks the seventh year a Kenworth has been used for the special delivery.
The tree will be displayed for the holiday season on the West Lawn of the US Capitol building. An assortment of handmade ornaments will grace the tree including those Ezra and his two siblings and three cousins sent to the White House back in September.
"I think it's pretty awesome," stated Ezra.
As the Kenworth Christmas truck makes its way to DC, it is spreading Christmas cheer in the midst of troubled and trying times. Many across the nation are hoping it's a sign of better days to come.
If a Kenworth T680 is on your Christmas list, be sure to check out what MJ TruckNation has to offer. You'll find a great selection of Commercial Trucks from leading manufacturers like Kenworth, Isuzu, Hino, and more. With on-site financing and friendly folks to help you find the truck that's the right fit for you. MJ TruckNation is located in South Florida.
If you don't live in the South Florida area, don't let that detour you. MJ TruckNation will deliver your new or used truck to you. Give them a call today at (561) 220-9992.