The History of Dump Trucks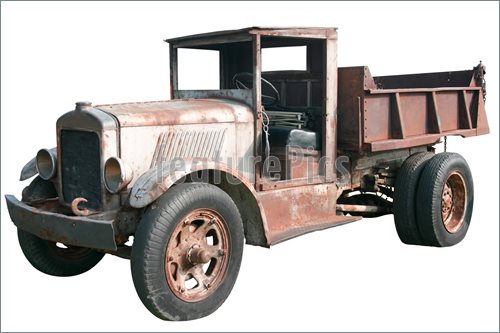 Check out this throwback1920 dump truck tipper! The first dump trucks with motors were invented in 1910 by small equipment companies like Galion Buggy Company, Lauth-Juergens, and Fruehauf Trailer Corporation. Shortly afterward, hydraulic dump beds came about, thanks to Wood Hoist Company.
Old-fashioned versions of dump trucks have been around even longer, well before diesel or gasoline engines graced the earth. Horse-drawn two-wheel carts were commonly employed around the railroad and in coal mines to haul and dump material. The first farm dump truck dates back to 1896 when Thornycroft developed a steam dust cart in Europe.
Dump Trucks became very popular during World War 1 because they were in huge demand. When Fruehaul introduced hydraulics into the picture in the early 1920s, the "Bathtub Dump" became a big seller for mining companies, heavy hauling companies, and road construction outfits.
Today, Dump trucks are designed for a myriad of purposes like hauling rocks and gravel, dirt, refuse, and most anything else that can be loaded. Landscapers, construction companies, and gravel pit crews are among those who use them.
Available in diesel and gas versions, Dump Trucks can be found with both standard and automatic transmissions. Isuzu, International, Cat, and Hino are some of the best and most popular brands on the market.
Dump Trucks are well-known for specifically accommodating the needs of a wide range of work. For that reason, they come in tons of shapes, sizes, and types including Standard Dump Trucks, Semi-Trailer Dump Trucks, Transfer Dump Trucks, Truck and Pups, Super Dumps, Semi-Trailer Bottom Dump Trucks, Side Dump Trucks, Double and Triple Trailer Bottom Dump Trucks, Winter Service Dump Trucks, Roll-Off Dump Trucks, Off-Highway Dump Trucks, and more. For those who have highly specialized needs, Dump Trucks can be customized.
In the past, Dump Trucks were considered dangerous to operate and to be around in general. New technology has stepped in to help by better balancing that prevents the trucks from tipping over and also sound an alarm the vehicle is backing up.
Dump Trucks have come a long, long way since the first one was invented. If you are embarking on a new company or are perfecting your existing one, a new Dump Truck is sure to help you maximize your business.
MJ TruckNation
If you are considering a Dump Truck for your endeavors, you are probably looking for a more modern version than the 1920 tipper. At MJ Nation, we've got you covered. You'll find workhorse Dump Trucks like our new Isuzu Dump Truck NPR Gas Crew Cab and other great Tippers and Commercial Trucks as well.
At MJ TruckNation, we are honored to be at your service. You'll never meet a friendlier, more knowledgeable team. We have on-site financing so we are able to give you a rock-bottom price that fits your budget. We'll never pressure you to make a purchase.
Don't live in the South Florida area? No worries. We deliver anywhere in the nation. Give us a call today and let us get you loaded behind the wheel of your new Dump Truck – (561) 220-9992.