Five Things to Look for in a Commercial Box Truck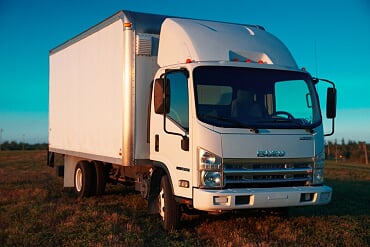 So you're looking for a Commercial Box Truck to run your service out of. Congratulations! Box Trucks are ideal for many lines of work such as those in the delivery and moving industries.
It's important to know what to look for when you shop for your Box Truck lest you end up wasting your money on one that doesn't suit your needs. Read on to find eight vital things to consider when purchasing a Commercial Box Truck:
1. Size Matters
Size is one of the most important things to base your truck-buying on. Commercial Box Trucks typically range from 10 to 26 feet long. Selecting one that's too large will cost you more in the initial purchase as well as in areas such as licensing, fuel, and maintenance. But, if you go too small, you lose money by turning down jobs your truck can't handle.
You'll also want to determine the height to ensure you can pass under any obstacles between your loading point and delivery destination.
2.

Features
Be sure the truck you opt for has the features your business requires or that they can be added on at a later date. If you run a refrigerated food truck company, you can't ignore the fact that you have to have a refrigerated truck (called a Reefer Truck) or, you'll need to have a system put in. The same is true for other features such as forklift accommodations and special shelving for storage.
3. Balance of Weight and Cargo Space
It's imperative to achieve a balance between the weight of your cargo and the space it will go in. Failure to do so will wreak havoc on your truck and is quite dangerous too. Your load may fit, space-wise, in a smaller truck but if the GVW chassis isn't capable of supporting it, you'll be in trouble. Do the math and know before you go
4.

Flooring
If you don't think having the proper flooring is vital, think again. While a wooden floor is typically cheaper, it may not support your load and you can only imagine the problems that could cause. Why pay for a steel floor if you're only transporting Styrofoam cups though? Is your load likely to sweat or spill liquid? If so, going with a wood floor might not be too wise. Flooring is more important than you may give it credit for being.
5.

Interior Lighting
When looking at Commercial Box Trucks, lighting should be a top priority. Most trucks come with lighting in the cargo area but what type, where it's located, and how bright it is can easily be overlooked. Especially if you deliver or load when it's dim or dark out, you'll need your "box" lit properly. In the event that you find the truck of your dreams but it doesn't have the lighting you need, you can have it changed out but will definitely need to put it in the budget.
MJ TruckNation
Still confused about what to look for in a Commercial Box Truck? We are here to help you. At MJ TruckNation, we're specialists in commercial trucks. We are happy to answer any questions and to address all concerns. We have on-site financing and are able to work miracles to get you behind the wheel of your Box Truck where others can't or won't.
Give us a call today and let us work our magic for you – (561) 840-9800.