Get a Truck and Get Moving on a Hauling Side Hustle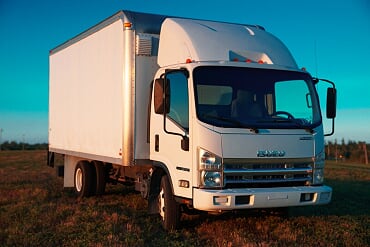 If you're in the market for a lucrative side hustle this spring, you might want to consider starting a hauling business. With a good Work Truck and a little muscle, you'll be well on your way to making some bucks. Here's how to make it happen:
Make a Plan: What do you want to haul? You can specialize in yard clean-up, garage clean-outs, trash removal, or large item pick-up. Or, you can choose to be a jack-of-all-trades. It's a good idea to think each option through and what it will take, money-wise and physically to get the jobs done.
Secure a Truck: You'll need something to haul with. A work vehicle will most likely be your largest investment. A Flatbed Truck is a great choice because you can fit more in it than a Box Truck. You'll be able to choose between an End, Side, or Belly Dump Trailer to make your duties a lot more convenient and you'll save time too. But, if you live where it rains or snows a good amount of the year, a Box Truck may be your best bet if you don't want your loads getting wet. Both Flatbed and Box Trucks come in different sizes to accommodate your needs. Be sure to get a vehicle that is economical with fuel so all your profit doesn't end up in the gas tank.
Get Your Equipment: Figure out what equipment you will need. Dollies of different sizes and types, bungee cords, moving blanket, ratchet straps, a tarp or two, bubble wrap, and red warning flags are among the things you may require. Look for bargains when you are shopping for equipment and if you're on a strict budget, you can check yard sales, online neighborhood garage sales, and pawn shops.
Legalities: You'll need a name for your business and to register the name. Check with state and local authorities to see what registrations and licensing you'll need. It's wise to run your legal plan by an attorney to be on the safe side. Insurance is an area you won't want to skimp on. It's a protection for you and for your customers. Don't forget to set up your taxes too. You can hire a bookkeeper or purchase a program that will help you keep track of them yourself.
Market Your Business. You'll need some customers so, it's important to get the word out. Business cards, ads in the local paper and online, flyers, and word of mouth are all excellent ways to spread the word. Make your service stand out by offering something special such as a good deal, a unique twist, or a bonus. The more creative you are in marketing, the better your business will go over.
MJ TruckNation
When you're ready to get hauling on your hauling business, MJ TruckNation has got your back. If you need a truck, we've got one. From Landscape Trucks to Box Trucks and everything in between, we'll hook you up. We even have onsite financing. If you don't live in the South Florida area, no problem. We'll deliver your Work Truck to you. Give us a call at (561) 220-9992.