Get Glowing with a Bubble Foam Party Truck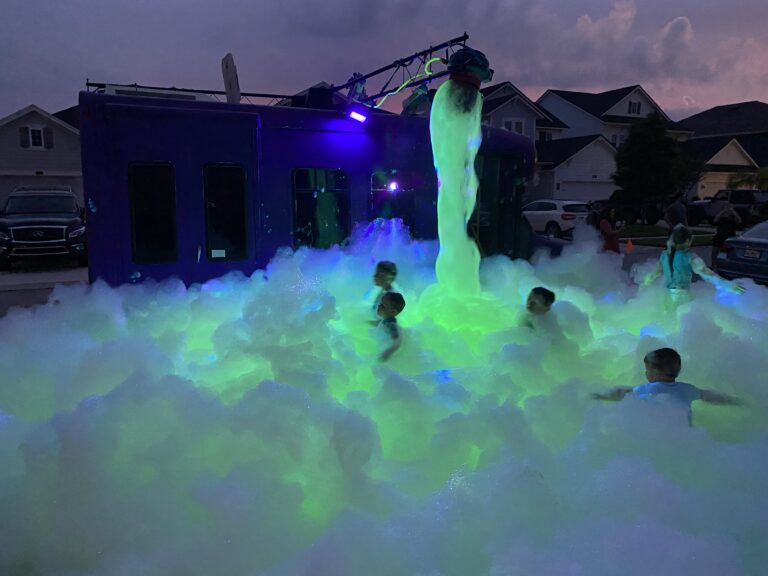 Ranked the number one choice for kid, tween, and teen get-togethers, Bubble Foam Parties are all the rage right now. If you've got a foam machine and a Box Truck, you're in luck. You'll not only be making loads of bubbles, but you'll also be making plenty of cash too.
What is a Bubble Foam Party?
People throw Bubble Foam Parties for birthdays, grand openings, church events, and more. The bubbly foam is created by a foam machine that spews out bubble foam which is a fluffy foam that's not messy like wet soap bubbles are.
There are plenty of spins on a Bubble Foam Party. You can offer glow bubbles, rainbow-colored bubbles, organized games to go along with the fun, theme parties with bubbles, and bubble dance events. You can specialize in non-toxic types of foam bubbles. The sky is the limit when it comes to Bubble Foam Parties.
How to Start Your Bubble Foam Business
There are several things you'll need in order to start a Bubble Foam Business. Here's the run-down:
A Box Truck.

You will need to transport your spray equipment and any other supplies needed for the party. You can opt for a new Box Truck or a used one. As long as it runs, it will work for the cause.

Foam Machine.

Of course, you will need a foam machine. You can purchase online or in a brick-and-mortar store. Or, you can rent or buy a used one at a discounted price. Foam machines can be found in many different types and sizes ranging from standard to extra-large. You will want to consider what size parties you intend to go for and how much space that you want to cover.

Licensing.

Check with your local authorities to find out what their regulations are concerning Bubble Foam Party trucks. You will probably need to register with them and prove that you have insurance on your vehicle and your party too.

Advertising.

It is a great advertisement to have your vehicle painted so it will attract new business. You can also put out signs and place ads in your local paper and online community group pages. Have plenty of business cards made up and pass them out to everyone. Word of mouth goes a long way too so make sure your customers are pleased and pass the word along.
How Much Do Bubble Foam Parties Cost?
Once you have a Box Truck and a foam machine, you'll need to maintain them with fuel for your truck and liquid foam solution for your machine. You'll need to pay for any licensing required. Past that, the only expense is anything you wish to add on like props, painting your Box Truck, and some advertising.
MJ TruckNation
If you are interested in purchasing a Box Truck or upgrading the one you have so you can get some suds going with a Bubble Foam Party bus, look no further. At MJ TruckNation, we are bursting with Box Trucks. If you aren't sure what truck is right for you and your new party business, no problem. We are experts where commercial trucks are concerned and we'll help you figure it out.
We have on-site financing and will deliver your Box Truck to your front door if you're not in the South Florida area. Give us a call today – (561) 840-9800.