Isuzu NPR Gas Crew Cab 14-ft Aluminum Dump Truck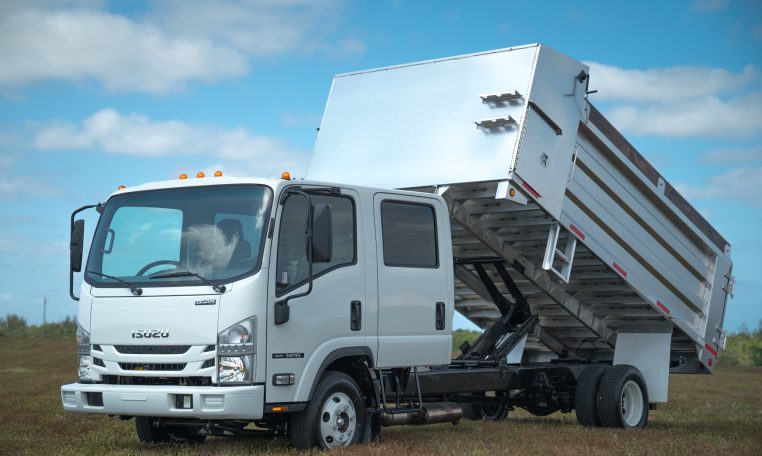 When you run a Dump Truck or Landscaping business, you need a reliable workhorse Dump Truck that will make sure you get the job done.  The Isuzu NPR Crew Cab is the perfect match for dumping and hauling, guaranteed to meet all you basic needs – and then some.
Details about the Isuzu NPR Dump Truck
This brand new Dump Truck sports a 6.0-liter V8 engine.  It packs the power without weighing you down.  It's gas-powered and gets fantastic fuel-mileage.  The 297 horsepower and 372 lbs. of torque ensures you have plenty of get-up-and-go behind you.
The fact that this truck has an automatic transmission means you'll never have to bother with shifting gears.  You can spend your time doing more important things, like bringing in the payload.
You'll love the roomy crew cab.  There's ample space for your team members to ride along in style.  You can opt for the economy version, or deck it out with all the bells and whistles.
The Gross Body Weight of this Isuzu NPR Dump Truck is 12,000.  You only need a Class A Driver's License to operate it since it's not over 26,000 GVW.  The wheelbases run from 109 to 186 inches for a comfortable fit from any box that's between 10 and 20 feet in length.
The length of the body in this new Dump Truck is the ultimate size for most jobs you'll be doing with your truck.  Dump Trucks that are too short don't hold enough for many jobs and those that are too long may encounter issues, like problems getting in and out of certain locations.
The aluminum construction of this Isuzu Dump Truck is solid.  It's easy to maintain too and doesn't weigh as much as many other models do, like steel constructed vehicles.  The smooth handling will leave you in disbelief.  It's a cinch to drive and operate.
About Isuzu
Isuzu is a trusted worldwide name that millions turn to when they want an affordable work truck without sacrificing quality or performance.  Isuzu has been supplying American workers with trucks for decades.  They even have manufacturing plants based in the United States to keep up with the hot demand.
The N-Series is a popular Isuzu line of trucks that cater to building tough and durable work trucks.  The NPR is one of the most beloved in the N-Series line.
Because this Isuzu Dump Truck is new, it automatically comes with Isuzu's industrial warranty.  You can't beat that!
If you are interested in getting into an Isuzu NPR Dump Truck, we'll help you do it.  At MJ TruckNation, we'll work alongside you to find the perfect Dump Truck that is exactly what you want, all the way down to the last detail.  Give us a call today at (561) 220-9992.