Seven Simple Steps to Winterize Your Spray Truck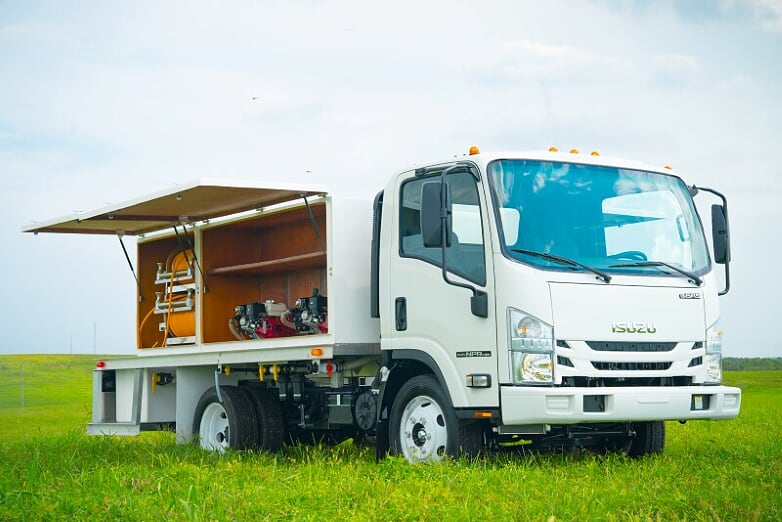 Winter will be here before you know it. It's not too early to winterize your Commercial Spray Truck to make sure you don't get left out in the cold.
Why Winterize?
Hopefully, your Spray Truck has had a busy and profitable season and it's time to give it a little TLC. Whether you'll be tucking it away for the winter or gearing up for business to boom in the upcoming cold months, if you take care of your money-making machine, it will take care of you.
You want to protect your investment from harsh elements like ice and snow and allow it to recover from the dog days of summer you put it through. Both winter and summer can be tough on truck parts so the change of season is a great time to tend to some upkeep.
Seven Suggestions to Get (and Keep) You Rolling
No matter if you use your Commercial Spray Trucks for pest control, road repair, agricultural purposes, or something in between, these tried and true tips will help ensure your truck will keep up with all you require of it:
Make the Exterior Superior.

The first step to maintaining your Spray Truck is to give the outside a good scrubbing. Not only will your truck look better, it will give off a better impression to your customers too. Clean off any deposits and make sure if they are chemical-based that you do so at a truck wash that has bio-hazard previsions in place. Go ahead and shine it up and polish the tires too. While you're at it, inspect every inch of it. Pop the hood and clean the engine and check it out too. Make a note of any area that needs attention.

Nab the Cab.

It may be a work truck, but the inside of your cab shouldn't be neglected. Remember how nice and clean it was when you bought it? With a little effort, it can be that way again. From the floor liners to the windows, get it squeaky clean. Check the air conditioner and heater and the vents too. Don't leave any crumb – rodents LOVE crumbs…and insulation and electric wires.

Flush the Mush.

All Spray Trucks need to be flushed out from time to time. Now is the time to do it. Check the manufacturer's manual for specific instructions and follow them to a tee. Even if you are a meticulous owner and rinse your sprayers after each use, go ahead and deep clean them. Not only can nozzles and hoses get clogged and dirty, but they can also become cross-contaminated as well. If you don't have a newer model sprayer tank that is low-maintenance, you might want to consider getting one. They are well worth the investment.

Oil Up!

Make a list of everything that can be oiled or greased on your truck. The oil in your engine can be drained and replaced. If your rotating pump requires oiling, do it. You can even condition the interior of the truck to prolong its life.

Winter Prep.

Without antifreeze, engine blocks bust. Be sure your truck has fresh antifreeze. Use a premium brand that accommodates the worst-case scenario weather your truck may encounter over the cold months. Check for leaks.

Spray It.

Be sure to protect your sprayer, hoses, and nozzles from the damaging effects of rain, snow, sleet, and freezing winds. Even if you don't live where winters are extreme, moisture in the air rusts unprotected equipment and metal parts so treat them while you can.

Money Matters

. Keeping your Spray Truck in great condition for the winter season will help ensure when you are ready to sell it or trade it in, you can get top dollar for it.
MJ Truck Nation: We Deliver!
At MJ TruckNation, we have a wide line of Commercial Spray Trucks including leading brands like Isuzu. If you are ready to upgrade, come check our selection out or find them online. We have on-site financing and a friendly and helpful team so we can help you get in the driver's seat of a Spray Truck that will get your spray business on the road to success. If you don't live in the South Florida area, don't worry. We'll bring your new truck straight to your doorstep. Contact us today at (561) 220- 9992.