Unboxing a Box Truck: What's New with Isuzu?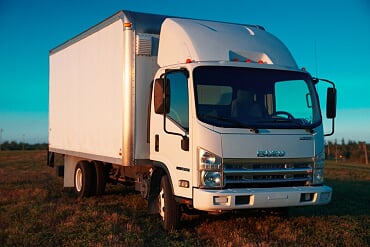 Isuzu Box Trucks are some of the best on the market. If you're wondering what they've got that so special, let's take a look inside the box at the truck that's known for being outside the box.
Isuzu N-Series
Isuzu is a Japanese manufacturer that's been around for decades, notorious for making excellent commercial vehicles. The Isuzu N-Series (NPR) is the line responsible for the Isuzu Box Truck, appreciated for its value, dependency, and high performance.
Isuzu was once known for making cars but in 2009, stopped so they could focus on and perfect their commercial vehicles, and that…they did!
Specs
Body lengths range from 10 to 20 feet. Take your pick between a standard and automatic transmission. You'll find single and double cabs available and they come with and without special features depending on your preference. Fully customize the interior of your cab or opt-out on the upgrades.
Comfort
Isuzu was one of the first commercial truck manufacturers to realize that workers deserve comfort too. Even the most basic models are made to be pleasant to sit in and operate all day.
Performance
Isuzu NPR has a performance you can count on. They are easy and efficient to operate with features like optional limited-slip differential and super-tight turning radii.
Isuzu Engine Life
The engine in an Isuzu N-Series Box Truck is a beast. Their ratings are some of the best in the commercial world where durability is concerned. Gas engines last around 150,000 miles and a 4HK1 diesel tends to go an average of 375,000 miles which is up considerably from the 310,000 miles of recent previous years.
Price
Since its beginning, Isuzu has always strived to accommodate even the tightest of budgets. You'll find the average price tag of an Isuzu N-Series is considerably less than the competition.
Options
You'll have a ton of options when purchasing an Isuzu Box Truck. You can get a Palfinder Liftgate for smooth door sailing when loading and off-loading. Choose between a Landscape version, Proscape Box, Aluminum, FTR, and so many more. Or, maybe a Reefer Isuzu Box Truck is what you're needing for your refrigerated goods.
MJ TruckNation
Looking for an Isuzu N-Series Box Truck? We can help. At MJ TruckNation, we have both new and used Isuzu Box Trucks in varying sizes and lengths available in gas-fueled versions and in diesel. Our sales team consists of friendly and helpful experts who are ready to show you around and get you in the Box Truck that perfectly suits your needs. And, if you don't know what you are looking for, we'll help you figure that out.
If you don't live in the South Florida area where we are located, we'll deliver to your door. Yes, we're that good! With financing onsite, we are able to work miracles where others can't or won't.
Give us a call today and let's get you behind the wheel – (561) 840-9800.