Why You Flat Out Must Have a Flatbed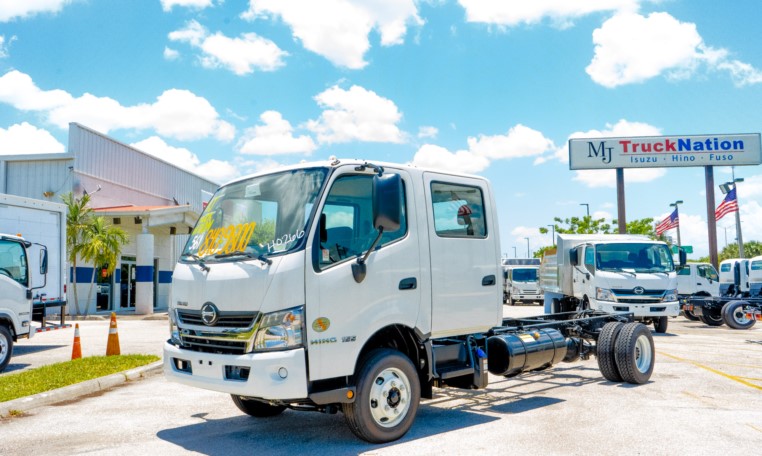 Flatbed Trucks are one of the most popular types of commercial work trucks and for good reason. They are versatile vehicles for transporting items of all sizes, even irregular-shaped ones. If you're looking to get into the trucking industry, you'll definitely want to check into getting behind the wheel of a Flatbed.
What is a Flatbed Truck?
A Flatbed Truck is a large commercial work vehicle with a flat body and no roof or sides around the bed. It is typically used to transport heavy loads that can withstand exposure to outdoor elements such as rain, snow, and direct sun. The design of the bed is perfect for loads that are oddly shaped or that would be too wide for a truck sporting an enclosed body.
Common Uses for Flatbed Trucks
Flatbed Trucks can be used in multiple industries like construction, transportation, and manufacturing. They are also employed for towing, dumping, and agricultural purposes.
Some popular uses for Flatbeds are:
Baled Tires
Discarded tires are notorious for created stockpiles of waste which leads to an infestation of insects and fire hazards. For such reasons, tires are often baled together with wire in order to compress them, thus eliminating some of the issues they cause when they sit around. The bales typically weigh one ton each. Baling tires allow them to be reused for projects such as erosion control, retaining walls, terrace walls, road fills, and construction endeavors. In order to repurpose the bales, they must be transported to the appropriate destination and a Flatbed Truck is ideal for doing the job.
Building Materials
A wide variety of building materials are commonly carried on Flatbed Trucks. Lumber, scaffolding, steel, pipes, and pre-fabricated pieces are examples of construction material loads Flatbeds are useful in transporting. Because Flatbeds don't have sides or roofs, the items can hang off the back or over the sides if need be. Most of the items are ones that don't need to be protected but sometimes a tarp is attached on top to provide limited shielding.
Scrap Metal
It's a common practice for construction sites and builders to call for Flatbed Truck companies to pick up their scrap metal. The scrap is then typically taken to a scrap metal buyer which is an added profit for the owner/operator. Flatbeds are easy to load and unload or dump, making them ideal for this type of work.
Super Sacks
Super Sacks are industrial fabric bags that are intended for transporting dry goods like fertilizer, grains, seeds, sand, and peanuts. Each bag generally weighs 2000 pounds. The sacks are loaded onto Flatbed Trucks by loading them on pallets or by using the bag loops to lift them. Once loaded, Super Sacks are delivered to their location.
Hauling Equipment
Heavy equipment like military tanks, tractors, and so forth are often carried on Flatbed Trucks since their size and weight can be accommodated by them. In addition, parts of planes and jets, oil and gas industry equipment, and heavy-duty pipes are also transported to their destinations by way of Flatbeds.
Is a Flatbed Truck a Good Fit for Me?
When trying to decide if a Flatbed Truck would be beneficial to you in your business or in a business you'd like to start, it's important to consider the weight and size of the loads you carry or wish to carry. You will also want to think about your loading and unloading or dumping requirements as Flatbeds are relatively simple to load and unload.
MJ TruckNation
If you are looking for a Flatbed Truck, look no further. At MJ TruckNation, we have what you need and if we don't, we'll find it for you. We have a large selection of Flatbeds such as Hino, Isuzu, and more.
Give us a call today and see what we can do for you – (561) 840-9800.