Put Some Junk in Your Truck and Trash Your 8-5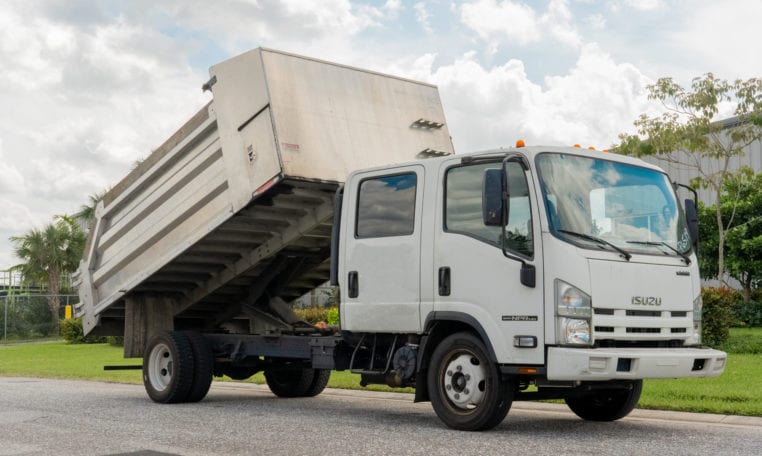 If you're tired of the 8-5 grind, go ahead…quit your day job. If you have a Dump Truck, or are able to get one, your future is loaded with opportunities. Many are making super-sized profits in the junk hauling business and you can too. Whether you pick one of the tons of specialized niches or go for it all, there are plenty of possibilities for utilizing your truck for big bucks.
Junk Hauling
Trash hauling is a business that you don't need special training for – no degree required. You don't even need a CDL unless you go over the 26,000-pound GVWR allowance. Very little equipment is required. Demand is typically high and competition is generally low so if you're ready to roll, here's how to do it:
A Plan: As with any business endeavor, you'll need a detailed plan. What are you going to haul? Choices include all-inclusive loads (anything goes), new construction and remodeling clean-up, hazardous material junk hauling, REO foreclosure trash removal, and so much more. Do the math on all the costs you expect to incur and figure in the profits too. Make sure it all adds up to making, not losing, money and you are good to go.
A Dump Truck: You will need a dependable Dump Truck. It doesn't matter if it's a new or used model as long as it runs well. Here are some helpful hints for choosing the truck that's the right fit for you:
Be sure the truck correlates to the federal highway weight limits for trucks.
Figure the size and weight of the junk you intend to haul and make sure your truck can handle it.
Decide between a gasoline-powered Dump Truck and a diesel-fueled model. Both have their pros and cons. Read more about gasoline vs. diesel here.
Size matters. A truck that's too large will cost you more money but a truck that is too small may mean you'll have to pass up jobs because your truck can't handle the load.

Focus on features. There are many Dump Truck features you will want to check into like a tilt bed and computerized functions. If you don't need or want the extras, skipping them will lower your initial cost on the Dump Truck but if you find they will help you, you might want to add them on.
You'll have several options when it comes to the bed of your truck. You'll find wood, steel, and aluminum beds available. Wooden beds often break or crack under heavy loads. While steel will hold up to heavier weighted loads, aluminum is easier to maintain and is lighter. Aluminum beds generally cost more initially but you may find the investment is worth it in the long haul.
Need a lift? The type of lift a Dump Truck has is imperative to take into consideration. Typically, a hydraulic lift is ideal but a truck with a manual lift can be less expensive.
Standard vs. Automatic. Standard Dump Trucks tend to work well if the terrain you intend to trek through is challenging. Automatic Dump Trucks are easier and more convenient to operate though.
Legalities: Check with your local and state authorities to see what their requirements are, if any. You'll need to name your business and register the name, keep up with tax obligations, and secure insurance for your truck and possibly, your business too. It may sound like a lot but the requirements associated with trash hauling are minimal compared to most other construction and delivery services.
Destination: You will want to establish where you are going to take the junk you haul. Become familiar with landfills and their costs and policies and find out about all the local scrap yards too. While landfills generally charge for dumping, scrap yards will actually pay you for your contributions. If you haul appliances, furniture, and other such items for individuals or companies, chances are good that you'll be given the option of keeping or reselling the items. After all, one man's junk is another's treasure. You may want to think about selling them online, at a flea market or garage sale, or to a resale connection that buys and sells. It's important to consider the additional costs or profits in your financial figures.
Customers: You'll need people to sell your service to. You can advertise online, in your local paper, through flyers, signs, and business cards, and by word of mouth and customer referral. Another great idea is to solicit businesses such as construction teams and other companies that tend to have materials that need to be hauled.
Safety Measures: When dealing with trash, it's imperative to know and understand how and where to safely dispose of the items in your loads. There are regulations on things like televisions, computers, and refrigerators. It's vital to practice safety when hauling and to train any employees to be cautious too. Your Dump Truck will need to be in safe operating order too with regular inspections to ensure it is in optimal condition.
MJ TruckNation
At MJ TruckNation, we are here to help you get your trash and junk hauling business off the ground. We have a wide selection of new and used Dump Trucks. With the lowest prices in the nation and on-site financing, we take pride in getting you in the perfect Dump Truck for the minimal cost.
If you don't live in the South Florida area, no problem. We are all about solutions. We deliver! Stop by our dealership, check us out online, or give us a call today – (561) 220-9992.